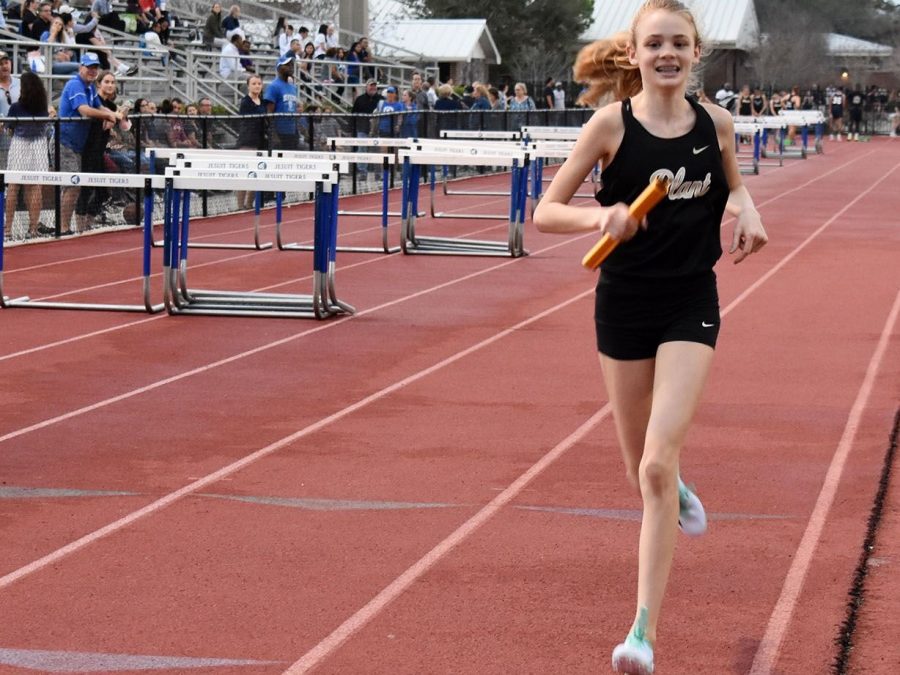 Hartley Hill
Freshman Mary Ellen Eudaly started running in sixth grade, but competing in cross country began for her just this past year.    
"I love it," Eudaly said. "The team is really fun. My sister is on the team, and her friend who has a sister in my grade is too, so the whole varsity is really close."  
After training all summer, Eudaly was able to make it in the top seven for the qualifying race and was even given a spot on varsity.   
"It's really cool," Eudaly said. "I mean, I knew going in that I would probably make varsity because of my training last year. But honestly, it's also been surprising how well I've been doing, and I contribute it all to my teammates."  
Eudaly's practice takes place at Bayshore for most weekdays, but recently her team visited one of Florida's hiking trails Nov. 17. Every day except Sunday, Eudaly finds herself training for cross country in some way.  
"I just try to do a lot of my homework before practice," Eudaly said. "And running honestly gives me a good break and helps me take my mind off from school work."  
Along with practice comes the long-distance running competitions, which Eudaly has found herself placing in quite frequently. She even had a recent achievement.  
"I won the county championship, and I beat a girl I didn't think I would beat," Eudaly said. "So, I think that was a great accomplishment."   
Eudaly said much of her support and inspiration comes from the people involved in cross country with her, especially her coach Roy Harrison.  
"We all love him," Eudaly said. "He's really close with all the girls. He always has a specific training plan for us and is trying to get us to run our fastest time at States so we can compete. He's always looking out for us."  
Eudaly said her older sister, Elizabeth, also runs for the team and supports her in any way she can. Competing in cross country under the same team has allowed the sisters more time together.  
"Even though I've been running faster than her, she's still been extremely nice about it," Eudaly said. "She's been the best encourager ever. She's just my favorite person to run with."  
When running, Eudaly said she often sticks with the large clump of girls in the front or the lead pack; towards the end is the time to pull ahead and win. Over the course of four years, Eudaly has kept on running, something which she has attributed to her team.  
"The team is really helpful," Eudaly said. "Just seeing the whole team and we're trying to win the state championship, so there's that every day. Seeing that I'm not just running for myself, that I'm running for the team, it's motivating to keep going so that everyone will advance."