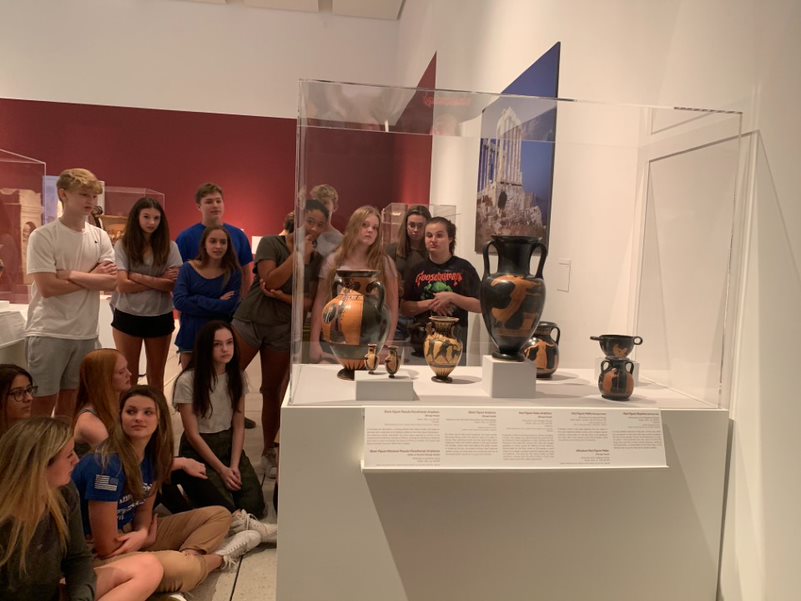 Izzy Antilla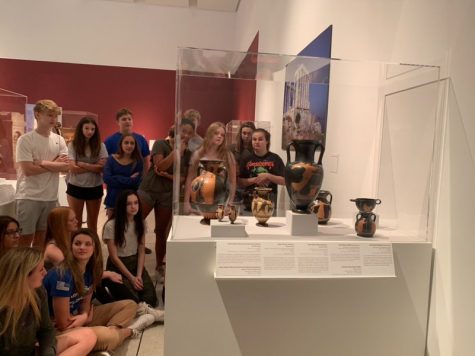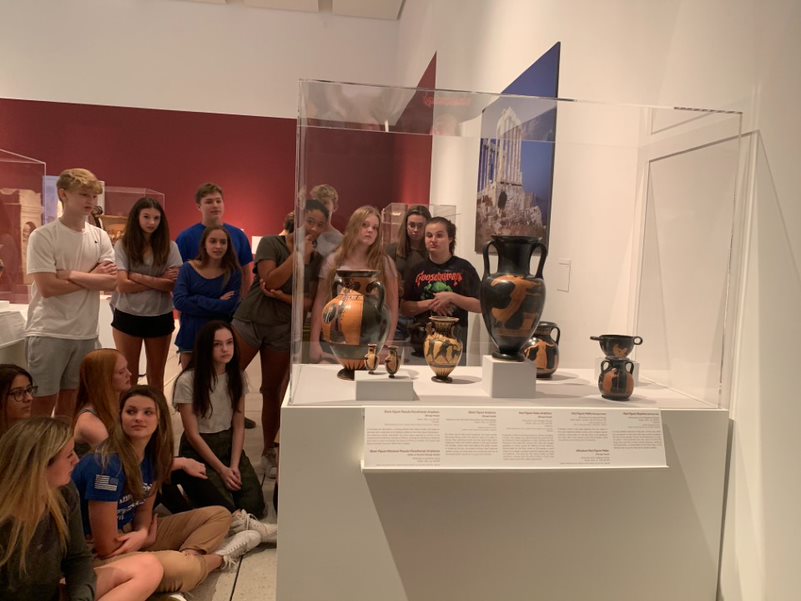 AP Art History students met at the Tampa Museum of Art at different times throughout the day to take a tour of the antiquities, abstract and Jean-Michel Basquiat's art, Oct. 5. 
The trip was led by AP Art History teacher Bill Renninger, who took groups of 25-26 students through the antiques and art teacher Brian Taylor, who presented the abstract art.   
"I think it ties things together, if this class is working right, it's tying lots of different classes together and making connections between them," said Renninger. "It even makes connections between school and community because before may students wouldn't even know the collection the Tampa Museum of Art has."  
Students were first presented a Roman marble copy of an original Greek bronze, something that reflected Classical art. Some students were able to find similarities in what they saw, along with what they had learned in their classes. 
"Many of the works of art we learned about their tied into the subjects of Greek and Roman arts at school," sophomore Maddie Miller said. "We viewed a Greek and a Roman statue, pottery, and a stele or bust."  
The tour is an event that Renninger holds a couple times per year with or without him as a guide. Students like sophomore William Mathagani though it was interesting seeing art from different periods than the ones presented in class. 
"Learning about what we haven't studied was interesting," Mathangani said. "It was just so cool to see artwork other than the ones that we learn in class," "The contemporary art was interesting because it shows artist works from recent times which we haven't got to in class."  
After presenting the art, students asked Renninger questions about the display and context from what they had learned within the class. The questions students answered were to be tallied for additional extra credit as well as the amount they received for attending.  
"My motive to come was to get extra credit at first," sophomore Emma Walker said. "Once I came, I realized it was very interesting, and I would definitely do it again without extra credit because it is something people don't get to experience often."  
With each event, students were able to view pieces they may have learned in class, as well as new pieces that fit with their previous knowledge. The tour's information varied each time from museum to museum allowing attendees to analyze more art each time. 
"Because of the class, I can actually take the time to appreciate a work of art and not just look at its surface value," sophomore Elizabeth Xenick said. "I would love to go on another tour to see more of what we study in class and expand my knowledge."