Athlete of the week: Silvia Farfante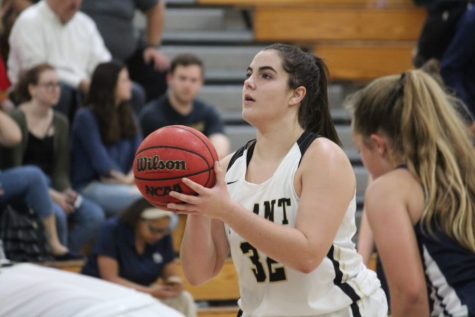 Sophomore and varsity basketball guard Silvia Farfante has been playing basketball her whole life thanks to her brother's inspiration. Even though Farfante doesn't know if she will continue playing throughout college, she's been a part of the varsity team for two years. 
Q: Why do you enjoy playing basketball? 
A: I enjoy playing basketball because it allows me to be part of a team that has honestly become my family and work for a goal that we want to achieve together. 
Q: What's the hardest thing about basketball? 
A: I think injuries and losses are the toughest part of the sport. When being injured you have to sit out and watch something that you love so much and its really tough to do that. But also playing a great game and losing is something that is hard to overcome as well. 
Q: What is the most important thing you have learned while playing the sport? 
A: I think the most important thing that I've learned is that you never give up on your team. We have such a great bond as a team and we never want to let each other down. We never give up in a game which pushes us all to strive to do our very best at every game. 
Q: What's your favorite memory from playing basketball? 
A: My favorite memory from basketball would have to be my freshman year walking up to the board to see if I made the team and realizing I made varsity as a freshman and just how accepting all the upperclassman were to me. 
Q: Do you have an inspiration that you look up to when it comes to basketball? 
A: Yes, actually I have a lot. My coach is one of my biggest inspirations. She's always pushing us to do our best yet is always there for us when we fail. Also, two of my teammates are my biggest role models, Kendal Cheeseman and Kerrigan White. They are two of the most amazing people on and off the court and they show me who I want to be when I grow up not only as an athlete but also as a person. 
Q: What are you most looking forward to this season? 
A: I think I'm most looking forward to the competition this season. We added a bunch of games with some great teams and great competition, so it's going to be a lot of fun to play against them.