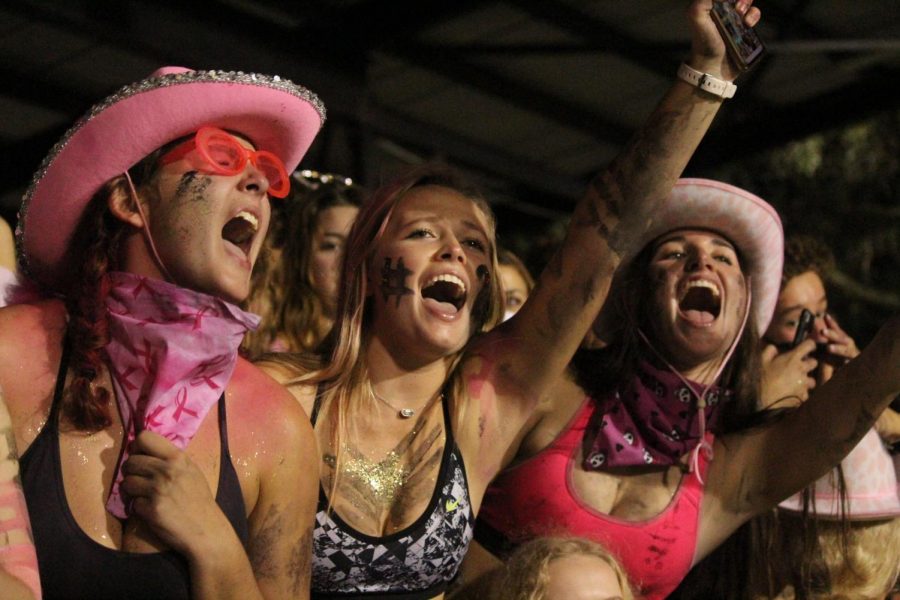 Kate Caranante
Standing on the sideline as the varsity football team took on Wharton High School Friday, Oct. 23 it was louder than it had been all season. The noise was coming from the student section which was largely absent this year due to Coronavirus restrictions. 
With Hillsborough County changing its policy and allowing a capacity of 1,500 spectators at football games, there is now more tickets available for students. 
"It was important for me to fill the student section since we have had so much taken away from our senior year," senior class secretary Kaylie Rustman said. "We want to make this the best year possible."
This game was deemed a "pink out" by Rustman in honor of Breast Cancer Awareness Month. She promoted the game on social media in order to boost attendence. The students that showed up did not disappoint as they chose to paint up in pink paint and glitter while wearing various pink accessories to show their support for the cause. 
"We chose to do a pink out to show our support for breast cancer survivors and spread awareness for the cause," Rustman said. 
Most of the students that filled the student section on Friday night were seniors carrying on the legacy of the Spike Squad which has been a Plant tradition for many years. The Spike Squad is known for traveling to all of the football games, home and away, to make sure the team has the support they need by giving them crowd noise advantage.  
"One reason my classmates and I wanted to carry on the tradition was to support our friends on the field," senior Michael Prugh said. "We also wanted to bring the student body together by filling the stands."
After painting up and putting on their spikes, the students entered the stands and began cheering for their team. The game was a defensive battle, so it lacked explosive offensive plays, but the students didn't seem to mind. 
"This senior year has been so abnormal," senior Emma Welch said. "Actually being able to go to the game painted up and have a student section has given us a sense of normalcy."
Although the varsity football team lost 10-0, the students were able to create an exciting environment.  
"Painting up with my friends has definitely been a highlight of the year," senior Logan Black said. "I've been waiting all four years of high school for it and it was really nice to actually be able to do it. The environment of the student section made the game a lot more enjoyable."