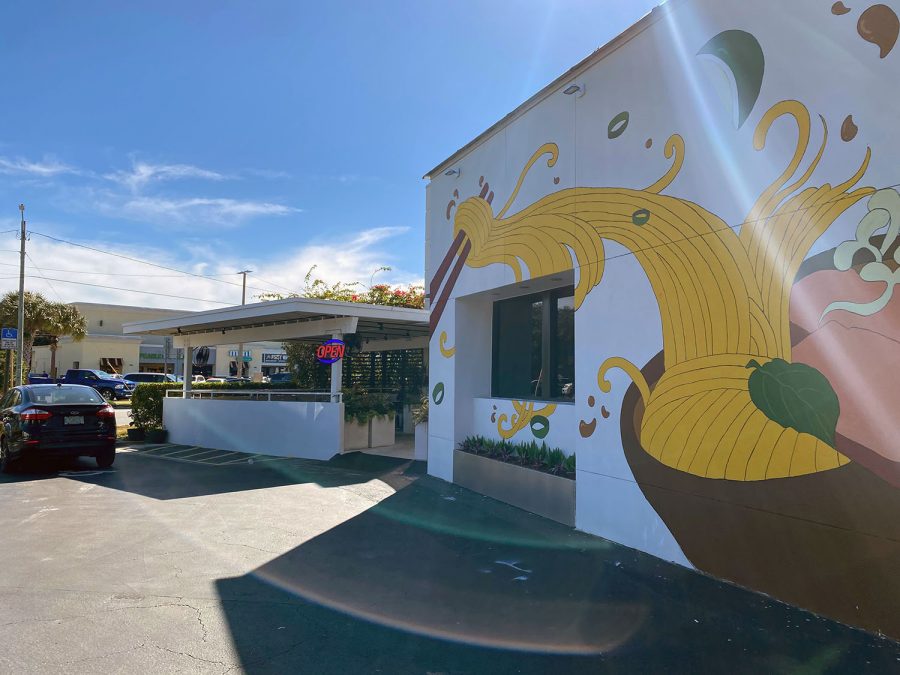 Katherine Bernstein
A sweet aroma of cinnamon, ginger, and cloves gently floats from a bustling kitchen to the bright, open layout of Pho 813. Sitting down inside Pho 813, the newly opened Vietnamese restaurant on Henderson, food was the first thing on my mind. Watching others receive their order was torture- plates of seared meats, golden fried rolls and sticky rice paper danced between tables- I clenched my menu, quickly skimming the single-page list of items.  
The menu had six main categories: appetizers, pho, bun vermicelli, rice platters, house specials and banh min. After friendly greetings from the waiter, my food was ordered, and anticipation skyrocketed as I peered around the establishment.   
The layout was modern, and an open floor plan encouraged a large feel to the main dining room. Clean, modern tables sat a comfortable distance from other customers and guarantee you are not sitting on top of other restaurant-goers. Although the lack of walls exemplified any noise, creating a loud atmosphere, the cleanliness and soft colors made an enjoyable and professional feel to the inside.   Outside, more table options were offered, but due to the business of Henderson I opted to sit inside.  
Before my food arrived, I got to try a Thai tea. It was milky, smooth, and had just the right amount of sweetness. However, the milk to tea ratio seemed to be 4/5 to 1/5 milk to tea, which was a downside. At four dollars, the tea was overpriced and something I would pass on next time. With the tea, my brother and I ordered an appetizer of spring rolls. They had fresh greens, rice paper, pork, shrimp and a peanut dipping sauce. Altogether, the appetizer was fresh and delicious and remained light enough not to distract from the main meal. Priced at four dollars for two medium-sized rolls, I would highly recommend the spring rolls.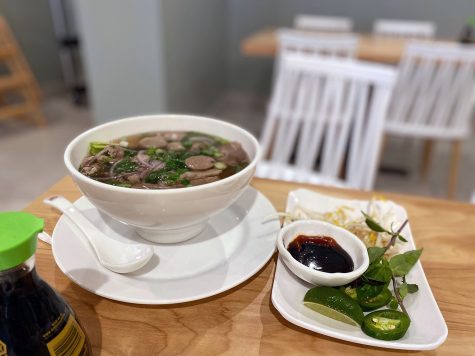 The food came out subsequently and in a quick manner. I had ordered the chicken banh min while my brother chose the beef deluxe pho. Both meals were incredible.   
The pho was packed with lots of meat including sausage, ribeye, brisket and tendon. The broth had subtle layers of sweetness from ginger and cinnamon, while the greens and beef  completed the savory dish. The banh min was served on a crispy, golden baguette, perfectly toasted from the inside to the entire outside. Inside, jalapenos, cilantro, and preserved daikon radish and carrots added a level of spiciness and texture that paired perfectly with the sweet, flavorful-grilled chicken.  
After a complete dining experience, I would recommend Pho 813 as a fun Vietnamese dining experience. The food is high quality and flavorful while the inside is clean and trendy. The prices are reasonable, though not low enough for me to recommend as an everyday bite. Pho 813 is sophisticated enough for a professional meeting yet casual enough for a fun outing with friends. With a friendly staff and growing menu, I'll be sure to stop by again.