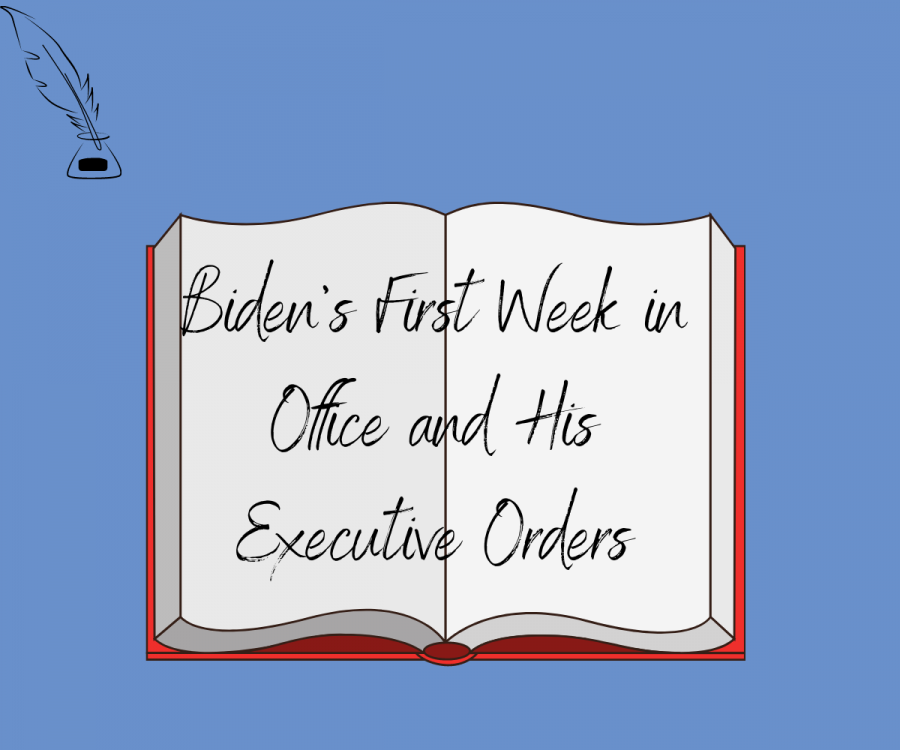 In the first week that President Joe Biden has been in office, he signed a record number of 37 executive orders. Biden's intentions are to dismantle several of the Trump administration's policies and issue orders preventing discrimination and enhancing America's response to the pandemic.  
Day One 
Biden ordered a memorandum to freeze Trump's approval of rules and actions on his last days in office, including securing oil drilling leases in Alaska, jeopardizing the Iran nuclear deal and punishing China. In addition, the Trump administration also went to lengths to prevent Trump's legacy being undone by hiring new people for scientific panels, weaken rules that concern environmental standards, nominating judges and eradicating health care plans. 
"President Joe Biden is finalizing 17 executive moves just hours after his inauguration Wednesday, moving faster and more aggressively to dismantle his predecessor's legacy than any other modern president," an article by CNN said. "Biden is signing a flurry of executive orders, memorandums and directives to agencies, his first steps to address the coronavirus pandemic and undo some of former President Donald Trump's signature policies." 
On June 1, 2017, Donald Trump pulled the United States out of the 2015 Paris Climate Agreement saying that it puts America "at a permanent disadvantage." President Biden rejoined the agreement on Jan. 20, 2021. 
"I, Joseph R. Biden Jr., President of the United States of America, having seen and considered the Paris Agreement, done at Paris on December 12, 2015, do hereby accept the said Agreement and every article and clause thereof on behalf of the United States of America," an official statement from the White House said. 
In the total of 17 executive orders issued in a single day, most of them were on issues regarding discrimination of minorities and COVID-19. Biden signed an executive order that promotes racial equity and discrimination based on gender identity or sexual orientation. He also ceased the U.S. "Muslim ban" or entry ban from countries with heightened terror concerns, most of which were majority Muslim. Biden also signed an executive order to include non-citizens in the United States census and he halted construction of the border wall. 
"The executive order outlines a broad interpretation of last year's landmark Supreme Court ruling that gay and transgender employees are covered by Title VII of the Civil Rights Act of 1964, which prohibits discrimination "because of sex" an article by the Washington Post said. "The Trump administration had interpreted that decision in Bostock v. Clayton County, Ga., narrowly and only applying to employment." 
Other orders the president signed off on were those requiring masks be worn on federal properties, a government-wide COVID-19 response, changing more immigration enforcement policies, canceling the Keystone XL permit, mandating ethics pledge for government appointees and pausing student loan payments. There were also three memorandums: renovating regulatory review, reinstating deferred enforced departure for Liberians, and reinforce the Deferred Action for Childhood Arrivals. 
"Trump's dismissal of masks was seen as reckless and harmful, his gratuitous photo ops were presented as vile marketing opportunities and his press secretary's lack of straightforwardness and cunning doublespeak defiled the building and harmed the very concept of truth," an article by the Boston Herald said. "Joe Biden has been president for less than a week. Shortly after being sworn in, he signed a pile of executive orders, including a mandate that a mask must be worn while on federal property." 
Day Two 
On the second day of his presidency, Biden signed another nine executive orders to begin his first steps to provide relief from the pandemic, although they have been ready to implement before this day. President Biden signed orders to stimulate COVID-19 safety in travels inside and outside the country, enlarge access to treatments, promote responses to COVID-19 that are data driven, create a pandemic testing board for the virus, encourage and promote safety in the workplace amid the virus, and signed an order supporting schools that are still open during the pandemic and supporting the reopening of schools that are currently closed. 
"Mr. Biden has signed an executive order appointing Jeffrey D. Zients as the official COVID-19 response coordinator who will report to the president, in an effort to 'aggressively' gear up the nation's response to the pandemic," an article by the New York Times said. "The order also restores the directorate for global health security and biodefense at the National Security Council, a group Mr. Trump had disbanded." 
Day Three 
Enlarging Programs for Food Assistance: The Supplemental Nutrition Assistance Program, SNAP, benefits are said to be increased by 15 percent in this executive order. This order also calls for states to increase SNAP emergency allotments and increase benefits under the Pandemic Electronic Benefits Transfer, a program that gives money to students for food. 
"About 1.7 million adult Floridians, or more than 11 percent, reported that their household sometimes or often did not have enough to eat in the previous seven days, according to Household Pulse Survey census data collected from Oct. 28 to Nov. 9," an article by the Tampa Bay Times said. 
Aiding Veterans Who Have Debt: The Department of Veterans Affairs have been inquired by Biden's order to consider a freeze of federal debt and overpayment collection from millions of veterans. This delay of debt will allow relief to veterans who are also feeling the weight of the pandemic. 
The Military website states, "There was no indication on exactly what debts the VA would be requested to suspend or how long the suspension would last. Late last year, the VA announced that it would begin collecting medical copayments owed by veterans for treatment during the previous nine months." 
Unemployment Insurance: This unemployment insurance executive order is going to be granted to those that are employed but will not work due to corona. The Department of Labor has been asked by Biden to consider being clearer on its rules to establish that workers "have a federally guaranteed right to refuse employment that will jeopardize their health," and they will still be able to receive unemployment insurance. 
Home Health Care News states, "But with that potential DOL provision, things could get tricky for both home health and home care providers. Theoretically, if the DOL did clarify that workers can stay home and collect unemployment if they feel unsafe, that could put thousands of home-based care workers in the position to opt out of their jobs for the time being." 
Stimulus Payments and Economic Relief: The check everyone has been waiting for, payment to fulfill some kind of economic relief for citizens, especially those who, during the pandemic, continue to work, go to school, and have low income. This order requested that the Treasury Department consider "a series of actions to expand and improve delivery" of direct stimulus payments. Biden's economic relief order consisted of the directing all of the government agencies departments to identify actions that can be taken to begin to address the economic crisis at stake and address the severity of it. 
"We need more action, and we need to move fast," President Biden said. "We're in a national emergency. We need to act like we're in a national emergency. So we've got to move with everything we've got." 
Empowering Federal Workers and Contractors: This executive order is a part of the plan to revoke regulations the Trump administration created, in this case, the rules that limited protections of federal employees. Biden revoked a rule that made it easier to hire as well as lay off civil servants that are in policy-making positions. The order also asked the Department of labor to recommend a raise in federal government minimum wage salary to $15 dollars an hour. 
Home Health Care News states, "One executive order, for example, laid the groundwork for a $15 minimum wage," an article by Home Health Care News said. "The 'Fight for $15' has long been a complicated issue for America's home-based care operators, many of whom want to pay their workers more but struggle with stagnating reimbursement rates. In addition to that, Biden also plans to increase the unemployment benefits add-on by $100 to $400 per week once the current spending package expires in March." 
Day Six 
On day six, Biden reversed the transgender military ban, promoted the Buy America Plan, and reinforced travel restrictions during Covid. The transgender military ban. 
Executive Order Repealing the Transgender Military Ban: This ban has been in place since the 1960s, for almost 60 years. Biden reversed this and the defense secretary was ordered to "immediately prohibit involuntary separations, discharges and denials of reenlistment or continuation of service on the basis of gender identity or under circumstances relating to their gender identity." 
"With Lloyd J. Austin III, his new secretary of defense, and Gen. Mark A. Milley, the chairman of the Joint Chiefs of Staff, beside him in the Oval Office, Mr. Biden signed an executive order restoring protections put in place in 2016 by President Barack Obama that had opened up the ranks of the armed services to transgender people," an article by The New York Times said. 
Bringing Back Traveling Restrictions:  Whether it's for business or vacations, many Americans travel to the other countries every day. This affects citizens traveling from Brazil and a large part of Europe and the ban will also bar most non-U.S. citizens from coming to the U.S. if they have recently traveled to South Africa due to the identification of a new strain of COVID-19 here. 
"The rule going into effect on Jan. 26 will require all passengers over age 2 to produce a negative COVID-19 test result taken within the previous three days, or to show proof of having recovered from the virus in the previous three months, in order to board a flight to the United States," an article by The New York Times said. "The requirement will help make travel safer, but it will complicate logistics and add to travel expenses." 
Day Seven 
Evaluation of Trump's Housing Policies: In this memorandum, Biden told the Department of Housing and Urban Development to "examine the effects of the previous Administration's regulatory actions that undermined fair housing policies and laws." They were to also utilize their discoveries to implement the Fair Housing Act's standards. 
"The housing memorandum will 'make clear we have to acknowledge the role that the federal government has played through much of the 20th century and implementing discriminatory housing policies across the United States," an article from CNN said. "…from redlining to mortgage discrimination, to destructive federal highway construction to redress this history,' the official said." 
Private Prisons: President Biden, in an attempt to get rid of the federal government's utilization of privately owned prisons, directed the Attorney General to not renew Department of Justice contracts with private prisons. 
"The order to end the reliance on privately-run prisons directs the attorney general not to renew Justice Department contracts with privately operated criminal detention facilities," an article by the Associated Press said. "The move will effectively revert the Justice Department to the same posture it held at the end of the Obama administration. 'This is a first step to stop corporations from profiting off of incarceration,' Biden said." 
Tribal Sovereignty: Biden's order reaffirmed a policy from the Clinton presidency that which mandates that all department and agency heads consistently consult with tribal officials on certain issues that may impact them in order to emphasize the administration's dedication to respecting the sovereignty of Alaskan Native and American Indian Tribes. 
"The United States has made solemn promises to Tribal Nations for more than two centuries," a statement from The White House said. "Honoring those commitments is particularly vital now, as our Nation faces crises related to health, the economy, racial justice, and climate change — all of which disproportionately harm Native Americans." 
Anti-Asian Discrimination and Xenophobia: Due to the origins of the COVID-19 virus being in China, a surge of anti-Asian bias has presented itself during this pandemic. As part of the nation's coronavirus response, this order addresses this issue in America as well as urges the Department of Health and Human Services to consider giving out guidance on how to be culturally understanding and sensitive toward Asian Americans and Pacific Islanders.  
"We're in a battle for the soul of this nation, and the truth is our soul will be troubled as long as systemic racism is allowed to exist," Biden said. "I'm not promising that we can end it tomorrow, but I promise you that we're going to make strides to end systemic racism, and every branch of the White House and the federal government will be part of that."