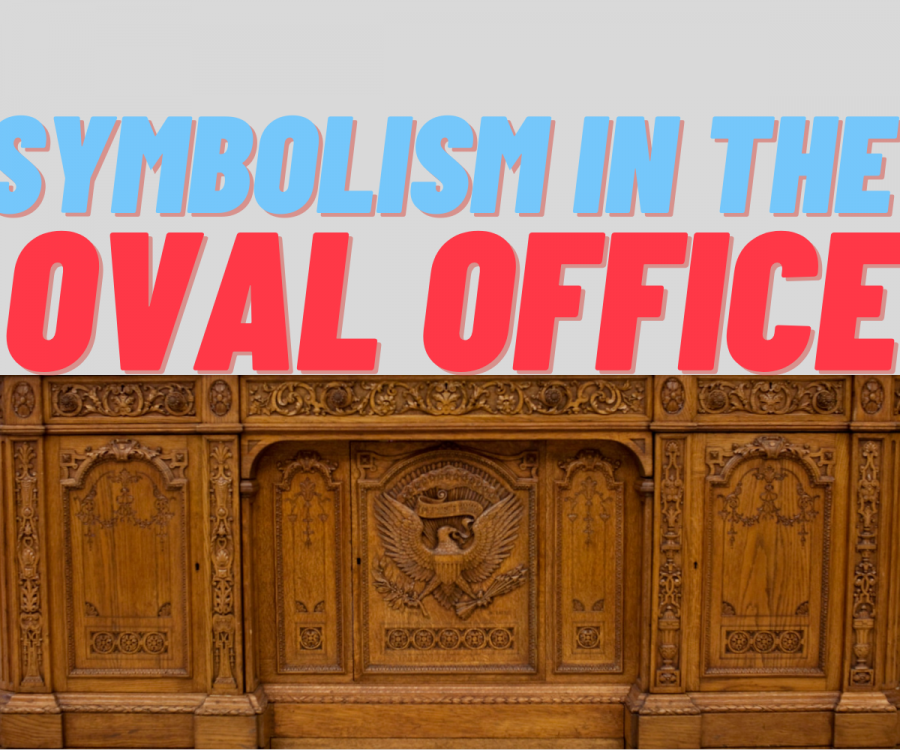 The Oval Office is analogous to the power and glory of the American presidency. When presidents first move into the White House, they also get to redecorate the Oval Office. This room offers a view into the president's personality and type of presidency they hope to accomplish. Although decorations past presidents have put here contains symbolism, current president Joe Biden's Oval Office has more symbolism in the decorations than any other president.  
The moon rock from NASA and a portrait of Benjamin Franklin puts Biden's love of science on prominent display. The Lunar Sample 76015,143 is a moon rock from the Lunar Sample Laboratory Facility at NASA's Johnson Space Center in Houston. Ronald Evans, Harrison Schmitt and Eugene Cernan were astronauts on the Apollo 17 mission and were the last humans to set foot on the moon. This 332-gram and 3.9 billion-year-old piece of the moon was created during the last major impact event on the nearside of the moon, the Imbrium Impact Basin. 
NASA states, "The irregular sample surfaces contain tiny craters created as micrometeorite impacts have sand-blasted the rock over millions of years. The flat, sawn sides were created in NASA's Lunar Curation Laboratory when slices were cut for scientific research. This ongoing research is imperative as we continue to learn about our planet and the Moon, and prepare for future missions to the cislunar orbit and beyond." 
Benjamin Franklin, a Founding Father of the United States, drafted the Declaration of Independence and the U.S. Constitution. In the context of science, Franklin was a principle and influential personage in the Scientific Revolution and the history of physics. His discoveries and theories involving electricity changed many parts of society. 
"In the 1740s, he conducted experiments that contributed to the understanding of electricity, and invented the lightning rod… In 1752, he conducted his famous kite experiment and demonstrated that lightning is electricity," History.com states. "Franklin also coined a number of electricity-related terms, including battery, charge and conductor. In addition to electricity, Franklin studied a number of other topics, including ocean currents, meteorology, causes of the common cold and refrigeration." 
On the table behind the Resolute Desk displays family photos, symbolizing the importance of family to Biden. Biden fathered four children from two marriages. He was first married to Neilia, who played a key role in Joe's 1972 Senate campaign, with whom they had three children: Beau, Hunter, and Naomi (Naomi commonly went by the nickname "Amy").   
In 1972, one day, Neilia was driving westbound on rural Valley Road in Hockessin, accompanied by their three children in the back seat. According to reports, the impact sent the car approximately 150 feet into an earth-formed bank. After being pulled from the wreckage, Neilia and one year old Amy were pronounced dead on sight, and Beau and Hunter were brought to Wilmington General Hospital. Beau's injury resulted in a broken leg and Hunter's a fractured skull. Although Biden married Jill Biden in 1977 after a blind date in 1975, nothing would remain the same for Biden, and he was promptly transformed into a politician whose career would be laid on the foundation of and grounded in tragedy.  
In 2015, at the age of 46, Joseph "Beau" Biden lost his battle to brain cancer. During his life, Beau obtained an impressive military career, he joined the Army National Guard as a major in the Judge Advocate General's Corps in 2003. He also followed in his father's footsteps when he became the 44th attorney general of Delaware from 2007 until 2015. During this period of politics, Beau collaborated closely with Kamala Harris due to her being attorney general in CA. 
Kamala Harris attended Beau's funeral, stating on Instagram, "Over the weekend, I attended the memorial service for my dear friend Beau Biden. It was a moving tribute to Beau, who cared so deeply for his family, the people of Delaware, and our country. I feel fortunate to have known Beau as a friend and to have had the opportunity to work closely with him as Attorneys General. My heart and prayers go out to his family, which he loved so passionately."  
Busts of the Rev. Martin Luther King Jr. and Robert F. Kennedy refers to the impact that these men have had on the country as part of the civil rights movement. These busts also likely show support of the Civil Rights movement and therefore Black Lives Matter due to the executive orders he abundantly signed being concentrated on equal rights and when Biden denounced racial inequalities in light of the Capitol Riots. These busts also show that the president may plan to adopt progressive policies.  
The Washington Post states, "Biden is also nodding to segments of the Democratic Party's base via historical references. Behind the Resolute Desk is a bust of Cesar Chavez. The office also includes busts of Rosa Parks and Eleanor Roosevelt and a sculpture depicting a horse and rider by Allan Houser of the Chiricahua Apache tribe that once belonged to the late Sen. Daniel K. Inouye (D-Hawaii) — the first Japanese American elected to both houses of Congress." 
Portraits of political rivals Thomas Jefferson and Alexander Hamilton demonstrate the President's hope for bipartisan collaboration, which Biden discussed in a great amount in addition to unity at his inauguration.   
Biden's office said that these paintings are "hallmarks of how differences of opinion, expressed within the guardrails of the Republic, are essential to democracy." 
Biden removed Trump's Diet Coke button and, in its place, is a frequent, consistent placement of a cup on a saucer. This means that Biden is a coffee drinker. Drinking a moderate amount of coffee has recent proven health benefits including preventing conditions such like Alzheimer's disease and heart disease. 
"Moderate coffee consumption (three to four cups per day) has been linked with longer lifespan," Harvard Health states." In fact, a November 2015 study in Circulation found that coffee consumption was associated with an 8% to 15% reduction in the risk of death (with larger reductions among those with higher coffee consumption). Other studies have found that coffee drinkers may have a reduced risk of: cardiovascular disease (including heart attack, heart failure, and stroke), type 2 diabetes, Alzheimer's disease and Parkinson's disease, colon, uterine and liver cancer, and cirrhosis."  
From adding family photos to changing the military branch flags behind the Resolute Desk Biden's predecessor placed, all of Biden's items in the Oval Office hold important symbolism, showing his personality as President and his distinction from Donald Trump.