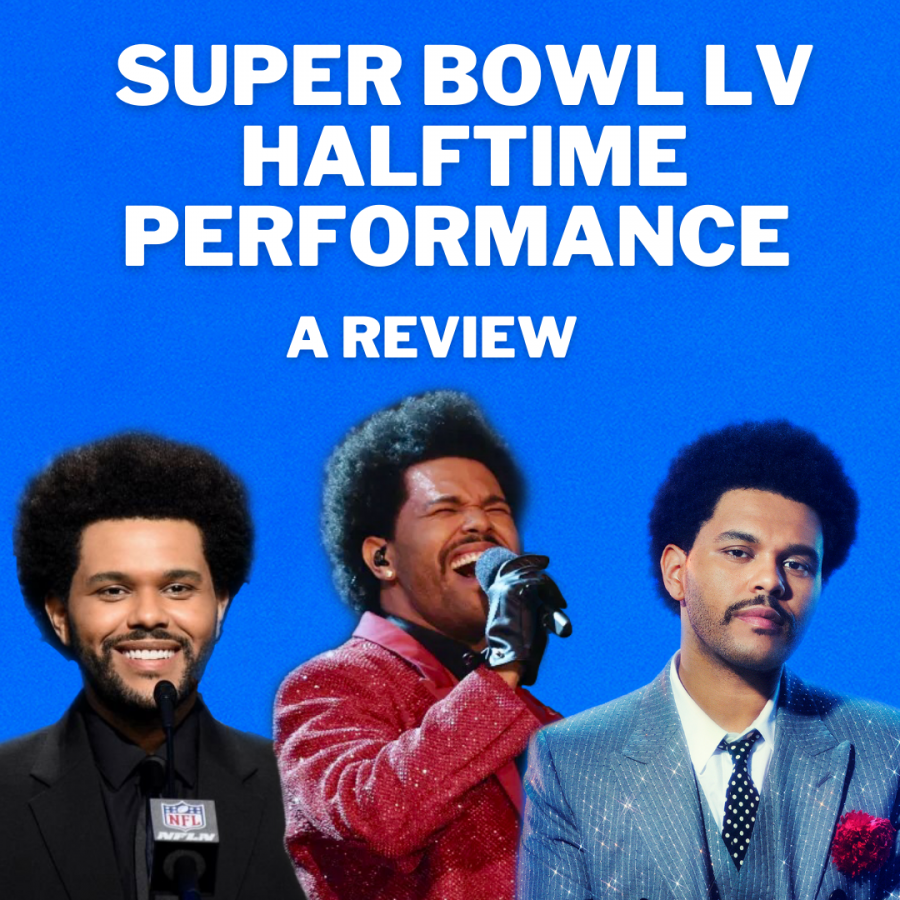 Solo, The Weeknd (also known as Abel Tesfaye) took to the stage for the 55th Super Bowl halftime show. Using his autonomy, he produced an overarching thematic event that encompassed symbols of his latest musical era. The performance itself had shining and enjoyable moments, but overall, felt more tailored to previously established fans of the singer. With his approach, The Weekend chose to remain secure in his artistry which caused his performance to lack the theatrics that are characteristically tied with the best Super Bowl performances. 
Immediately playing into his narrative, the show opens with The Weeknd dressed in a sparkly red suit jacket (portraying his character in the "After Hours" music videos) and sitting in a luxury car surrounded by illuminated signs, lotus flowers and city lights. All key factors of night life in Sin City. This opening visual was one of my favorite stills from the performance, but it does not last for long as he quickly transitions to a lengthy stage performance. 
While The Weeknd made his way to the stage, the choir began with a haunting rendition of "Call Out My Name." The choir and orchestra section tripled as set decoration, dancers and backing for many of the songs performed.  
Revealing himself through the parting choir section, The Weekend appears with a god-like entrance that was achieved by the blinding warm yellow lighting that contrasts from the dark stage lighting. He starts his performance with "Starboy" and continues with "The Hills." 
He then moves to a funhouse room filled with gold lighting and mirrors that work to call back to his music videos from the past year. Starting "I Can't Feel My Face," we switch to a new camera angle where Tesfaye brings his face up to the camera and we move around with him in a room. 
Keeping with the movement, he is joined by his dancers who are dressed similarly in red, but also with their heads wrapped entirely with bandages. Both the dancers and The Weeknd descend into a frenzy of chaos that comes up again, near the end of the performance. 
Fans of the singer will note that the costumes come as no surprise. They work simultaneously to represent the character Tesfaye has been portraying over the last year, while also working to seamlessly incorporate masks into the dancers' uniforms. 
This mirrored room section was literally a highlight because it brought the most vibrancy and energy to the performance thus far. It also allowed the viewers to get stuck in space, playing into the more intimate feel.  
He goes through more of his hits with songs like "I Feel It Coming," "Save Your Tear," and then transitions to one of his breakout songs, "Earned It," with help from the orchestra and choir. The addition of these sections was vital in this song because they helped to fill up the stadium and keep a kind of intensity that would not work with a simple back track or live band. 
The buildup to the end of "Earned It" was the most notable moment from his time spent on the main stage. With the amounts of technical errors in the audio when I had watched initially, they seem to be less noticeable in this section when I watch it back. At the very least, I appreciated that his mic was on, even if it was low at times.  
Next, he performs "House of Balloons/Glass Table Girls" and transitions to the field. The dancers reappear in a unified formation that quickly disappears when "Blinding Lights" begins, and they break out into mayhem once again. "Blinding Lights" felt lively the whole way through, so it was definitely the most fun song to watch. 
"Blinding Lights" broke many records this year and has over one billion streams on Spotify alone, so it is the perfect choice for a closer.  
A few birds-eye-shots are used to show the choreography and moments like these could have been used more creatively to increase the visual elements, but I digress due to the performance being near its end. 
Descending into mayhem one last time, the songs' bright and recognizable synths help bring the show to an end as The Weeknd sings the last line. As the music fades out and fireworks explode from behind him, The Weeknd completes his performance with a wide grin spread across his face. 
Throughout the show, you could tell how much he was enjoying himself and that was one thing that worked, at times, to keep the energy up when slow points arose or when the performance felt both visually and aurally empty. 
His genuine want to be there is even more clear when it was reported that Tesfaye had put up 7 million dollars of his own money to increase the production budget of the show.  
It is difficult to compare The Weeknd's performance to those of the recent past because they are wildly different. There are a lot of factors to consider, such as status in the industry, artistic vision and dynamics created by multiple guest performances. The Weeknd, as popular as he may be, has not been a mainstream artist until the mid-2010's and the major difference is that he has "hits," that chart tremendously well and make for a large catalog of known songs, but they are not so much considered "classics" that would be recognizable by a vast majority of age groups.  
As well as that, COVID-19 may have influenced the limitations of the performance, so there are many aspects that can affect the extent at which his performance can compare to previous years. 
A main issue most have had with his performance was that it felt out of place. I think the ideal placement for this type of performance would be an award show where he was receiving some type of honorary award, but nevertheless it was still an elevated performance of his. In recent years, halftime show viewers have significantly heightened their expectations because of standards set by veterans in the industry. 
Overall, amidst weak points, I was sufficiently entertained, and I largely accredit that to me already being a fan, so I was aware of the story and what he was trying to portray. 
It was a risk to adhere to a specific storyline and aesthetic in a halftime show, but his determination to fulfill his visual album experience is appreciated. 
The Weeknd's halftime performance shows commitment to a certain image and it was bound to not take with some viewers and completely enthrall others and, to an extent, it felt like that was his intention.