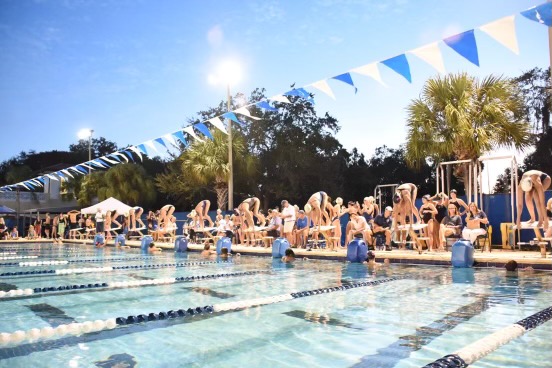 Hyatt Criser
On Thursday, Sept. 30, the boys' and girls' varsity swim and dive teams competed against Jesuit and Academy of the Holy Names at Academy for the annual Spike and Splash swim meet.
Spike and Splash is a charity event held by Academy of the Holy Names, where both the swimming community and volleyball community come together to raise breast cancer awareness and gather donations for the illness. Plant's swim and dive teams participate in this event every year and promote many viewers as they compete against their rivals.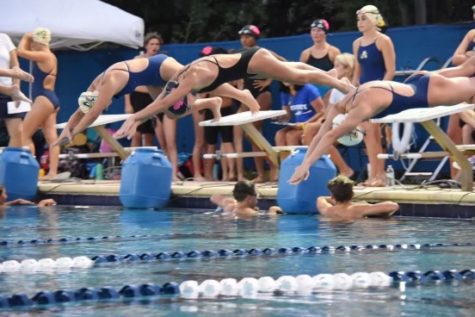 "What I love most about spike and splash is that it's a meet against our rivals, Jesuit and academy, not just for the swim and dive team, but also for the volleyball team too," Senior Jett Hoffmeier said. "The event impacted the team because of what the event means, which is a fundraiser against cancer. I am pretty sure everyone has been in contact with someone they have known that has had or still has cancer, probably in their family or in their community. So it brings that excitement that we are racing for the people who are fighting against cancer, and that sparks the fire to help us swim fast and win."
Hoffmeier participated in the 200 IM, 100 back, 200 free relay, and 400 free relay.
"My goals moving forward with districts, regionals, and states right around the quarter is to improve on getting better in my individual events and also work on being more of a leader for the team and encouraging everyone to give it their all and to have fun while doing their best," Hoffmeier said.
Spike and Splash has raised more than $100,000 over the years, including $7,200 it raised this year for breast cancer donations.
"You'll always find us cheering and supporting not only our teammates but other schools as well, Sophomore AJ Davis, a participant in the 200 medley relay and the 400 free relay, said. "I like the fact that not only is it an enjoyable experience for both teams, but also it raises money for causes."