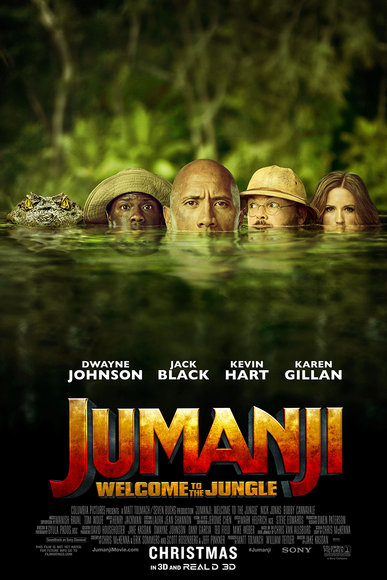 "Jumanji: Welcome to the Jungle" has dominated theaters since its release date in 2017. The comedy is a tribute to Robin William's original classic "Jumanji," but is it worth the watch?
After watching it in theaters, I've decided this is a movie well worth the trip to the theater, for many reasons.
"Jumanji: Welcome to the Jungle" presented an all-star cast consisting of Dwayne "the Rock" Johnson, Kevin Hart, Jack Black, Karen Gillan and even Nick Jonas.
The cast performed well together, fit their characters and Jack Black was amazing and really shone in his character. You could tell that the actors were glad to be there and they really took their characters to heart.
While the plot was engaging and filled with good humor, the high school scene seemed stereotypical and a little cheesy. The action scenes were exciting and the villain added suspense and an edge.
The whole movie flowed well as the characters were faced with a major problem to try and solve and it was fun to watch them bring their high school drama with them into Jumanji to solve.
One of the problems of "Jumanji: Welcome to the Jungle" is that it had a classic predecessor, Robin William's "Jumanji" thriller, a hard movie to top. Many critics argued that the first "Jumanji" felt complete and needed to be left alone.
While the original movie overall is a better watch, the sheer creativity of the newest movie really makes it shine, making it great in its own way. It feels like a nice, comedic tribute to Robin Williams and is best watched if you don't hold the expectations of the previous movie.
The special effects of the new Jumanji were pretty good but not something to wow at; with mediocre special effects, you felt like you could really focus on the characters and the acting.
"Jumanji: Welcome to the Jungle" was a well put together movie with a cast that truly makes the movie shine. Overall, it is worth buying overpriced popcorn and candy over.