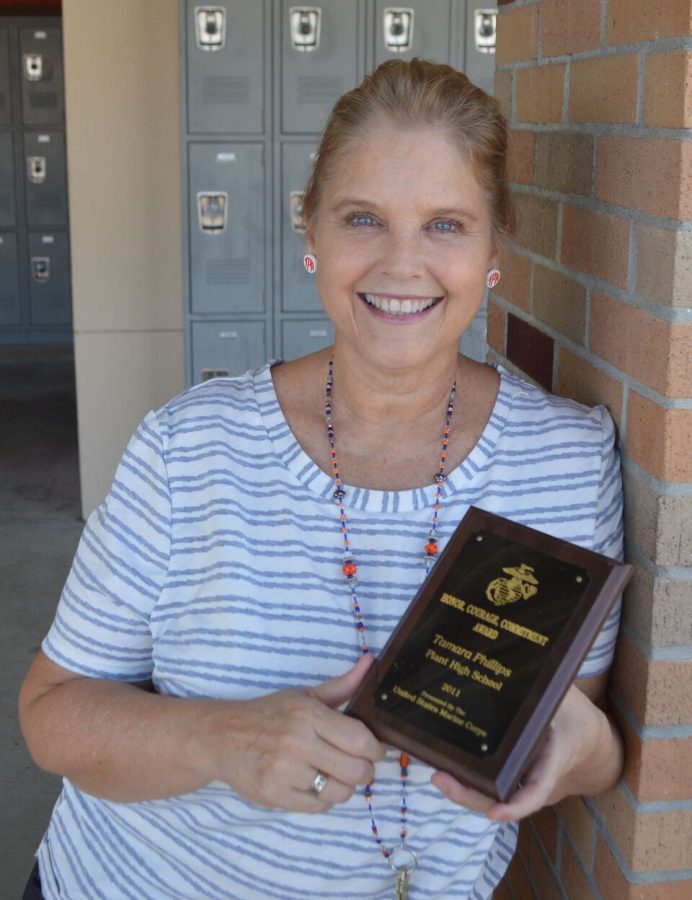 Tegan Fannin
When Tamara Philips, US constitutional law teacher and mother, arrived at school the first day of preplanning in 2009, cancer was the farthest thing from her mind. As she went about participating in meetings, colleagues soon took notice of her then prevalent swine-flu-like symptoms. 
"It was Monday morning, and I wasn't feeling very well, but I just thought I was tired and sluggish because it was the first day of work," Philips said. "As the hours clicked on during that Monday – we were in teacher meetings, the students were not yet here – even my teacher friends were asking me if I felt ok because I was starting to lose color in my face." 
After heading home for the night Philips went to bed with the idea that she had the flu, but the next morning she was unable to get out of bed. In the evening, Philips visited a walk-in clinic where she received an antibiotic and was told to return if her symptoms worsened.  
"The next day I felt ten times worse, I literally couldn't walk to the bathroom by myself." Philips said. "I was so weak I felt like I was going to pass out – I couldn't sit up in bed, couldn't eat, couldn't drink… I was definitely getting worse." 
Philips' sister-in-law promptly drove her to a walk-in clinic where they called an ambulance. At the hospital, the doctors collected a blood sample where they found her white blood cell levels to be ten times the amount of an average person. Her illness was finally able to be diagnosed: cancer. 
"It was very severe, and it was very obvious to them right away that I had leukemia." Philips said. "Within 24 hours I was off to Moffit Cancer Center." 
Philips had acute myeloid leukemia, or AML. AML is a type of blood and bone marrow cancer which causes an excess of immature white blood cells.  
AML appears instantaneously and can't be foreseen by doctors. 
"The weekend prior to that I was at my best friend's lake house up in Alabama, and she and I had been exercising for two hours straight Saturday." Philips said. "That was Saturday, felt like nothing was wrong, and not even a week later I'm in the hospital with cancer." 
Almost overnight Philips' whole life halted. She faced the stark difference of being in control of her life, to being bedridden and unable to sit up on her own. From focusing on her family and job, Philips had to redirect her life to treating and surviving cancer. 
"Once they figured out I had leukemia, the first thing they had to do was give me chemotherapy." Philips said. "I was already so weak from the leukemia I couldn't sit up, so the chemotherapy was always laying down." 
Philips' life revolved around the hospital, being transported in a gurney or wheelchair from room to room. While AML had already weakened Philips, chemotherapy came in like a train. Along with chemotherapy, Philips also had 13 blood transfusions as well as bone marrow transplants. 
"I was just a shell of a person," Philips said. "I was barely alive."  
It took three months before Philips reached remission, but she still wasn't at the point where she could walk around. With her immune system weakened, Philips had to be quarantined and could only reach her children via technology like Skype. But even over a strenuous recovery, Philips was never alone.  
"My sister-in-law Debbie took care of me every day." Philips said. "I felt like South Tampa wrapped their arms around me… they did so much."  
Food was delivered to her house every day, people helped her kids and blood drives were thrown to give Philips a hand. Several administrators collected snacks for Philips' family while she stayed at Moffit. With help from others, and an eventual recovery, Philips received an award in 2011 for her bravery. 
"Plant High School nominated me for the Honor Courage Commitment award given by the United States Marine Corps," Philips said. "The administration wrote about how I was able to keep such a positive attitude while going through a hardship such as cancer." 
Even though Philips is back at school working and gets to sleep in her own bed every night, her journey still affects her today. Through her struggle to stay alive, Philips offer advice to those who face similar circumstances.  
"I always tried to… think of it as 'this is such a problem, such an obstacle, such an inconvenience, but I'm going to get around it, I'm going to keep fighting.'" Philips said. "'I'm going to one day look at this in the past tense, maybe shed a tear, but always keep a positive attitude.'"