The Local provides good atmosphere, subpar food
Hanging bulbs dot the open ventilated ceiling, contributing to the rustic vibe of the open brick wall and reused garden hose appliance lights. Upon entering the newly opened restaurant The Local, I was eager to grab a casual bite for lunch from the array of southern comfort food options throughout Tampa.  
The Local was a restaurant with hit-or-miss food but followed their claim as a casual bar of southern comfort. Equipped with friendly service, the inside was casual and relaxing, cleanly and rustically decorated with tasteful accessories.  
Greeted by a smile and instantly waited upon, the service of the restaurant was friendly. Inside there were eight different options of seating, including a multitude of booths and high tables accompanied by a bar. The atmosphere was laid back and welcoming, with my only critique being the loud volume of the music.  
The waitress serving me was friendly and politely checked in every few minutes to check on the food, take orders and fill water. My seat was in a black booth with a smooth, clean table top.   
For an appetizer, I ordered the sticky cinnamon bread which was served warm and quickly along with the cheese dip. The sticky bread was bland, and the frosting tasted of a sickly-sweet cream cheese artificial flavoring. The cheese dip on the other hand, while being heavy, was adequately and tastefully paired with brussels sprouts, bread, sausage and cauliflower.  
For my main course, I ordered the hot breakfast bowl which also came out relatively quickly, immediately followed by disappointment. The potatoes and gravy were weirdly sweet and lacked much flavor or texture. The biscuit was well baked, and the onions that trailed the gravy were well cooked for as far as onions go.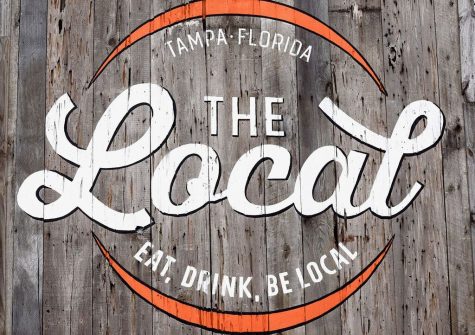 While two of the dishes I tasted left me with an aftertaste of disappointment, the atmosphere created a fun neighborhood environment which I enjoyed along with the service. If you don't mind dishes on the high carb side or food in the beer-battered fried category lacking seasoning, or if you crave a casual spot in the $12 price range, then I would recommend The Local.  
While the menu is unique, the food arrives as a letdown, so I would say choose another place to eat for a meal, but for atmosphere and a new setting, The Local might be for you.