Teachers perform at Faculty Idol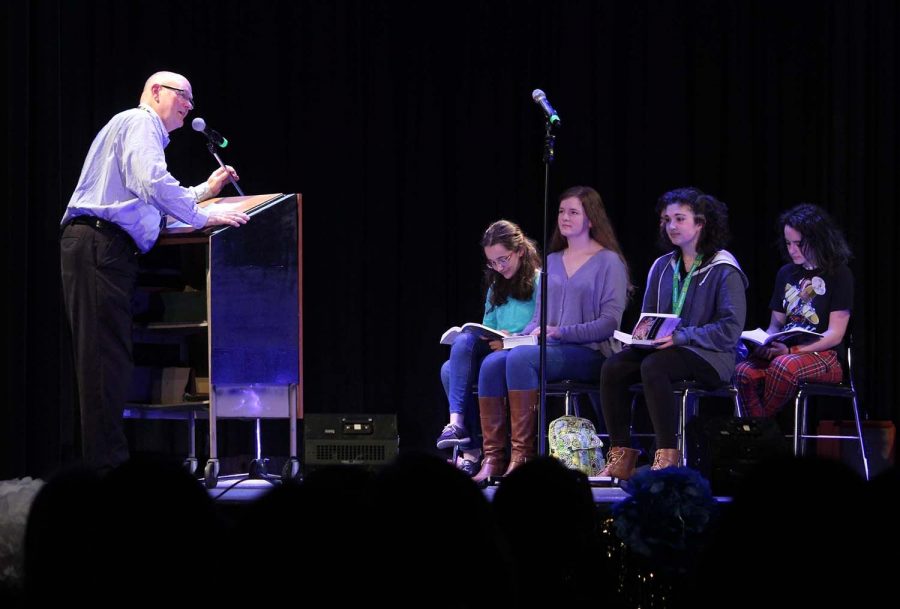 The overall winners of this year's Faculty Idol were the four-man band "Lockdown," comprised of John Henson, John DeOrio, Bruce Yost and out-of-school drummer Jim Rungo, who performed "Ring of Fire" Jan. 31.  
"My goal was just to have fun," teacher, guitarist and singer DeOrio said. "We had been talking about playing for a long time and said that it was time to have fun and play and get the guys together to see what we could do."  
One of the duet performances was Cristalyn and Clarissa Stokes, who are now known as the Stokes Sisters. The two sisters performed "Someone Like You" by Adele and were chosen as one of the top three performances along with 'Lockdown' and officer Mark Holloway. 
"This song resonates with both of us," English teacher Cristalyn Stokes said. "We have both had our hearts broken and did it together because we're sisters and we support each other through those heartbreaks. I thought everyone was really great, all of their acts were really unique, so it was cool to get selected, but everyone did amazing."  
Librarian Matt Penn and five of his students performed a poetry slam surrounding high school. English teacher Kristina Renaud and her son, Rhett Renaud, performed a mother-son tap dance choreographed by themselves. 
Madison White
"My goal was to be able to not only perform somewhat sufficiently but also to be able to make my son proud," Renaud said. "We prepared by getting a piece of plywood and literally made the moves together and practiced them side-by-side." 
Teacher Amanda Marriott and DeOrio performed "Shallow" from the movie "A Star is Born" and the musical theater class performed "What'd I Miss" from the Broadway musical "Hamilton." The three student choreographers, junior Niki Peacock and seniors Ambar Navarro and Gabriella Garibaldi made the dance for teacher Dan Franke's performance. 
"Teaching it was a little tougher since some kids don't pick up choreography as fast as others, but overall it was a great experience and a fun performance to participate in," Navarro said. 
There were four judges for Faculty Idol: Joshua Marr, Clare Sessums, Napoleon Wade and Eric Vance. Vance was previously asked to perform but decided to judge instead. 
"I went off of who gave me the greatest show," Vance said. "I wanted to see a show, I wanted to see awesomeness, I wanted it to be fun and playful and amazing and it was better than I expected."