Seniors partake in Water Wars tradition
Michelle Ricones-Rodriguez, Staff Writer
May 13, 2019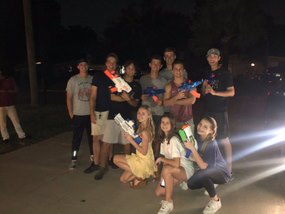 Water Wars took place April 24–28, composed of senior teams.  
Water Wars has been a regular occurrence at Plant, where only seniors participate, and usually occurs a few weeks before their graduation ceremony. 
 "I thought it'd be a lot of fun to spend time with friends before we graduate," senior Sydney Turton said. "I have a brother who is two years older than me, and I saw him go through a lot of it. It looked like a lot of fun, so I've been looking forward to it for a while." 
Some of the rules from the game are that if someone is killed it must be documented on Twitter and you can't shoot anyone on school grounds. 
"It really takes the fun out of the game," senior Tee Chulikavit said. "The game was one dollar and was all–in good fun. The only thing you're doing when you cheat in water wars is leaving the worst last impression on your fellow graduating peers."