New areas restricted during lunch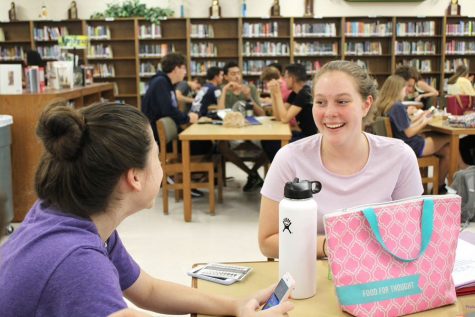 For the new school year, recently developed lunch restrictions were put in place that limited access to many parts of the school. 
"The reason for the implementation of the restricted areas were out of concern of safety," Assistant Principal Erin Mellnick said. "As an administrative staff, we supervise these areas and now we will be able to account for people during lunch, and the safety of our students is our number one priority." 
The students are allowed access to either the cafeteria, main patio, gym patio or they can apply to eat in the media center. This is a new system, as the media center was open to all students the prior year. Senior Riley Jordan is one of about 120 students who can eat in the media center during his lunch period.  
"I like eating in here because it's less crowded," Jordan said. "Without the media center, I don't think there would be enough places for other kids to sit."  
The application is available in the media center and is open to all students, though space is limited. 
"Ms. Mellnick came to me the first day back for teachers and told me this year we would need to know who was in the library at all times, so I came up with the application idea," Media Specialist Matt Penn said. "[Safety] is of upmost importance. I actually like the way the media center feels now during lunch- like the number of students." 
As well as eating areas, some bathrooms are closed for lunch students too. Initially, the only bathroom that was open to students was in the music hallway. Due to comments from students, the administration has now allowed the bathrooms in the main hall to be opened during the last 15 minutes of each lunch period. 
"The new restrictions do make it harder to meet with teachers, and get extra things done, and now I must do those things before or after school," sophomore Marryane Ferrer said. "About safety, I do like having administrators in the hall and the fact that anyone that shouldn't be there isn't." 
Students have been giving their feedback on the newly restricted areas and the administration has taken some into account to amend their earlier versions. 
"We're always open to suggestions… I'm not opposed to any changes and we will make those decisions as a faculty and as a school," Mellnick said.