Theater auditions begin for new production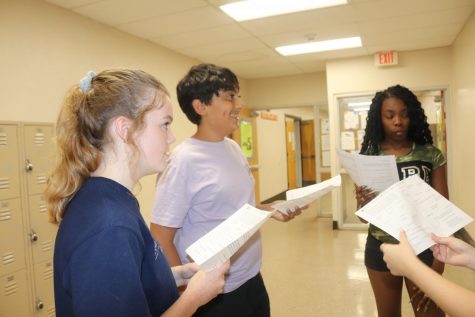 The auditions for the fall play, "The Secret in the Wings," kicked off Aug. 26 in the auditorium. Many students came to try out for a role. 
"This is the first production I've really ever auditioned for, but I have loved theater for a long time," freshman Arshan Falasiri said. "At first I was nervous to audition, but as soon as we started my nerves went away." 
Since the theater program is open to all ranges of experience, first-time upperclassmen participated in the audition as well. Senior Bernella Linton is one of many who came out to audition before they graduated. 
"I wanted to get out of my comfort zone because I'm more of the quiet type," Linton said. "I hope to audition for more shows so I can further express myself." 
The audition required a lot of physical activities in which the kids were broken up from smaller to larger groups. They were then given scenes to read and some were called back the following day to read a few more. 
"The auditioning experience was non-traditional—we didn't have to bring a monologue." senior Jason Calzon said. "We just came in and did a few improv exercises and cold-read through a couple scenes from the show. It was a lot of fun." 
Overall, the audition process lasted approximately two hours. Junior Rylee MacMurchy explained her way for preparing for the audition for either "Allerleirah" or "The Princess Who Wouldn't Laugh". 
"To prepare for the audition, I read over the script and then watched a bootleg version of the play just to get familiar with it," MacMurchy said. 
The fall show is set to be ready earlier than it normal because of scheduling. Instead of the last week of November, "The Secret of the Wings" production should be coming sooner. 
"We had to start auditioning a lot earlier than last year for our fall production because the original time coincided with the football schedule," theater teacher Daniel Franke said. "We are very excited to get this show moving and try out new things in our theatre program."