Pawbucks goes green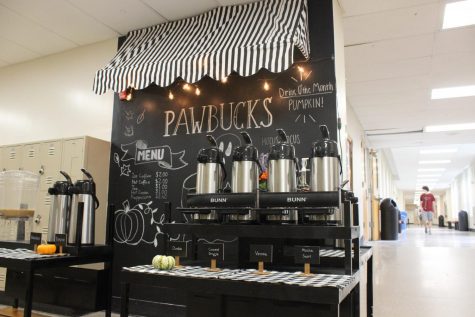 Pawbucks has decided to go green by eliminating the use of plastic straws and styrofoam cups starting Oct. 1. 
The eco-friendly materials, including the cup and lid, are more expensive, causing the Pawbucks prices to increase. The lid will now be a bioplastic made from corn starch and the cups will be paper with a lining inside made from renewable resources such as sugar cane.  
Their prices will be increasing from $1 to $2 for hot coffee and Starbucks iced coffee will be 50 cents more. Students are encouraged to bring their own cup to get half off coffee.  
"Although the prices for hot coffee are increasing, there are added ounces to the coffee cups, it's a good deal," ESE teacher Mary Radigan said. "We really are encouraging them to bring their own cups… they get a cheaper cup of coffee and we don't have any waste."  
Junior Vendela Busbee came up with the idea of switching to environmentally conscious materials. The Pawbucks proceeds go towards Special Olympics, which Busbee is a board member of.    
"Pawbucks is going green to reduce waste products and to conserve the planet's resources for future generations," Busbee said. "We want to keep our earth as beautiful as we have it now for future high schoolers like us. I believe that going green is choosing better options that will help slow the process of deterioration our earth is going through right now."