Scream-A-Geddon puts a spin on traditional horror parks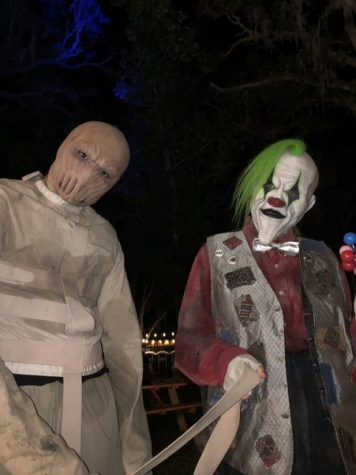 Most people have heard of Howl-O-Scream at Busch Gardens and Halloween Horror Nights at Universal, but not many have been to Scream-A-Geddon in Dade City. The park's first night this year was on Sept. 27, and although they may have been just getting into the swing of things, it added a new spin by incorporating things that neither of the other two parks have. 
In two of the five haunted houses, there are two options for people going in: You can either treat it like most haunted houses where you walk through and people jump out and scare you, or you can opt to wear a glow necklace that indicates you want to be interacted with. This allows the creatures to touch you, grab you, or pull you into other hidden rooms. 
In order to wear the necklace, the rules say you must be 18 years old, and they aren't joking when they say that they'll grab you. One person in my group was taken into a hidden room and zipped into a black body bag. That is something they wouldn't be able to do at one of the more prominent parks.  
The makeup and costumes of the cast at Scream-A-Geddon was not as impressive or realistic as it is at Howl-O-Scream or Halloween Horror Nights, presumably because it is more low-budget. That being said, general admission tickets were around $35, while at Horror Nights they are $91. 
The other thing is that the people in costume broke character several times. When they approached, they'd initially try to scare you, but if you tried to start a conversation with them, they'd come out of character and carry on.  
The five houses had a range of different categories, from a prison break to a 3D clown house to a zombie escape. Once inside, the houses were decorated very spookily, and no two houses had the same impact on spectators.  
My favorite house was the Demon's Revenge, because the jump scares were plenty, the storyline – accused witches being subjected to torture and death opening a portal to an alternate dimension – is so out of this world and unique, and lastly, the end of the house is filled with strobe lights that don't allow you to know where the next scare is coming from.  
 Because it is not at a location that is used for regular public attractions, the terrain is rocky and uneven in places. I don't recommend wearing white shoes, because I did and mine were covered in dirt by the time I left.  
One attraction that you can pay extra to participate in is the Zombie Paintball Assault. You can buy a ticket that includes this with three different options from $10 to $20 on top of the regular ticket that allow you to shoot paintballs at zombies.  
There is an area in the middle of the haunted houses where monsters walk around and interact with people, similar to the "scare zones" at parks like Howl-O-Scream.  
They sell food and drinks, but one thing that I noticed is that most of the food there is very subpar, and I would definitely eat before going if that is an option. The pizza was very dry and tasted almost raw, and most of the other food they had is equivalent to that of a carnival.  
I wouldn't recommend going to Scream-A-Geddon if you aren't the type of person who enjoys scary movies and being jumped out at. Additionally, if you are sensitive to flashing lights, it's probably not the best place for you.  
That being said, it is the perfect place to get scared at a much lower price than one of the other horror parks. It's not as frightening, so it's a good place to start for people who have never been to one before.