Margaret to Margaret
AP Environmental Teacher Margaret Drumsta shares generations-old naming tradition
After looking into what she views as an old-fashioned name, AP Environmental Science teacher Margaret Drumsta realized that the name is very prominent in her family. The naming tradition which has lasted six to eight generations is that the first girl born in each generation has Margaret somewhere in her name.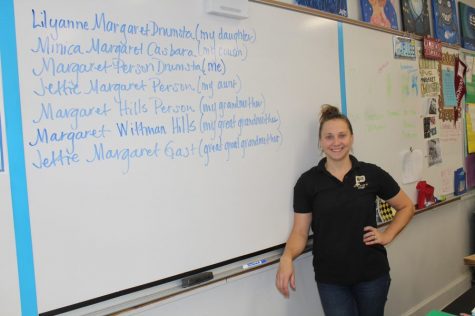 Q: Why do you and your family continue the naming tradition? 
A:  I think it's something fun to get to look back a couple hundred years and get look back on this family history of this name. It brings us together over hundred miles of distance. 
Q: What does the naming tradition mean to you? 
A: It's something fun. I have a deep family connection and so it makes it interesting to think I am still tied to people in the 1800s or 1700s so it's something fun to bring a modern twist to an old-fashioned name. 
Q: How long do you hope the naming tradition lasts? 
A: I hope it lasts as long as the tradition can go, I hope our daughter gets excited about it enough to see how cool of a connection it is to keep it up, maybe because her first name is Margaret her daughter's first name would be. 
Q: What do you think your family thinks about the naming tradition? 
A: I think it's something that unifies us and brings us together. Like I have this aunt I hardly get to see but her name is Jenny Margaret, so I feel like I have this connection to her even though she lives in Seattle and don't see her. 
Q: What do you think is unique or different about it? 
A: Well most naming traditions aren't girls' names; most naming traditions are fathers naming sons after themselves or grandsons. So, it's not that common for girls to have naming traditions.