To bee or not to bee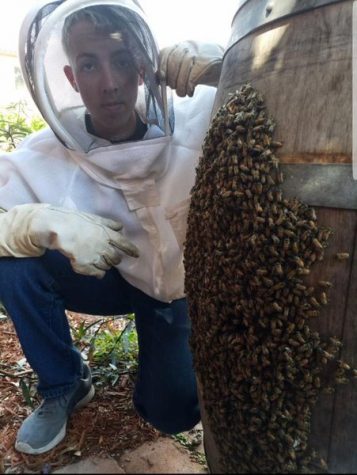 Buzzing bees float seamlessly through the air as senior Sherman Lacost tends to the hive. For the past four years, Lacost has kept and maintained bees, during which Lacost said he has learned many skills that he and his family use to care for the bees. While starting after encouragement from his dad, Lacost continued for personal enjoyment.  
"I worked together with my dad, he wanted me to get into it to start another hobby other than drawing," Lacost said. "It's better to work as a team so you can check each other for mistakes made."  
After learning the process of taking care of and housing bees, Lacost started to enjoy the results that he received from it. Typically, Lacost spends an hour a week taking care of the bees; managing their space, making sure the queen bee is laying, and controlling pests.  
"I enjoy most harvesting the honey and seeing the rewards," Lacost said. "It's nice to see after all the hard work that we put in." 
After purchasing the initial equipment for the bees, Lacost was able to produce honey for himself and other people. The proper tools to keep bees allowed Lacost to see the process of pollination and its impact on daily life.   
 "Keeping bees lets you know where your pollination comes from and how their pollinating affects your life," Lacost said. "From food you eat to the trees and flowers in your yard."  
Over the last four years, Lacost said he has learned a lot about bees including facts, trivia and traits. According to Lacost, even though caring for the bees takes a lot of effort as there are many precautions, he still encourages the hobby to others.   
"I would recommend beekeeping, however, that's if you are willing to put the time and effort in that is required," Lacost said. "If you don't take care of the bees properly, then they will just fly away."  
Even though Lacost has other hobbies such as rowing and art that consumes much his time, he enjoys beekeeping and plans to continue it in the future. Currently, Lacost sells and produces honey with his family in two holding facilities and looks forward to continuing the family business.   
"I would continue to keep bees as a hobby," Lacost said. "I enjoy seeing how the whole hive works together towards a common goal over a large scale."