Athlete of the week: Logan Hunter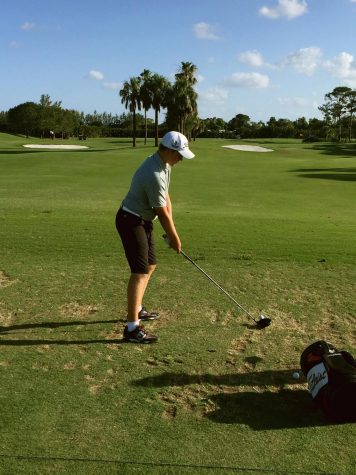 Q: How did you get started playing your sport? How long have you been playing? 
A: "I was introduced to the sport with a set of plastic golf clubs when I was a baby. My grandpa first took me to a course when I was 3, so I've been playing for 13 years. I've been playing competitively since I was 8." 
Q: What is your favorite aspect of the sport? 
A: "My favorite part of the sport is just getting better. There's nothing more gratifying to me than seeing hard work payoff on the golf course." 
Q: How has the sport shaped you into who you are today? 
A: "This sport has changed my life by essentially creating my schedule. It has led me to meet new people and I have made many good friends including my teammates through golf. Also, I think the discipline it takes to improve my game has made me stronger mentally."  
Q: What is the most important thing you have learned from playing the sport? 
A: "The most important thing I've learned from golf is that it takes patience to succeed." 
Q: What is one of your favorite memories from playing the sport? 
A: "One of my favorite memories from golf is when I shot 28 on 9 holes when I was 13 to win a tournament." 
Q: How far do you want to take the sport? 
A: "I definitely want to play division 1 college golf, and if I end up improving a lot, I might seek to go pro." 
Q: Who is your inspiration? Is it a coach, teammate or professional athlete? 
A: "My inspiration is my grandpa. He got me started in the game and has really made it enjoyable for me. I owe basically all my success to him." 
Q: What are you most excited for this season? 
A: "This season I'm definitely most excited for the state championship [which starts Oct. 29th btw]. I think our team has a legitimate chance to win."