Drumming up support
Drumline plays at food truck rally fundraiser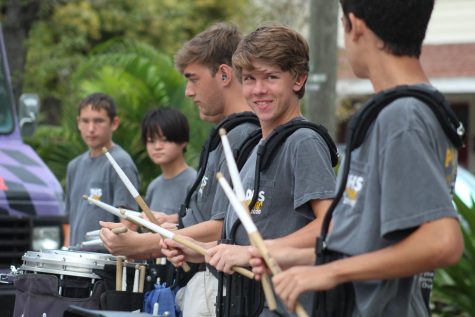 Drumline performed at the End 68 Hours of Hunger food truck rally for the first time November 4 at Hyde Park Presbyterian Church.  
"Overall, it was pretty fun, the environment was low stress," junior Kayla Verra said. "The audience was very responsive. I stayed after for a while, playing with the kids who wanted to try playing on the drums." 
The goal of End 68 Hours of Hunger is to provide food for children experiencing the 68 hours of hunger between free lunch at school on Friday and free breakfast on Monday. The Tampa Bay Chapter feeds 535 kids weekly. A silent auction was set up at the event, as well as a bag tag stand where a $10 bag would supply seven meals for one child.  
"I thought [the event] was successful," senior Kennedy Logan, who purchased a bag tag, said. "It was really nice to see part of my school get involved in such a good cause." 
Four food trucks- Just Smokin' BBQ, Dave's Jukebox Diner, Pamz Pizza Conez and MmmmDelicious Cupcakes respectively- were lined up at the rally. The rally also had a kids' zone that included fall-themed arts and crafts games, a giant connect four, and a bouncy house.   
"It was so cool to see all the kids having fun and help with whatever they needed," sophomore volunteer Sarah Hill said. "I would definitely go again and would always want to support such a great organization."