Athlete of the week: Will Hubbard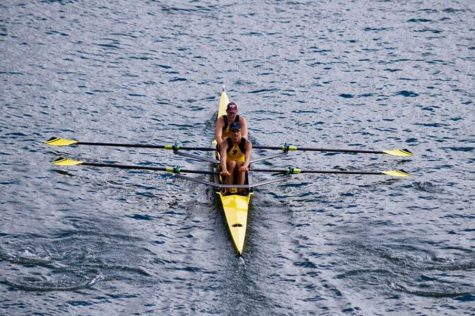 Q: Which position are you?
A: I am in the 1V8. I am the fourth seat, and that is on the port side.
Q: How long have you been on the crew team?
A: I've been rowing for high school for three years now, and I rowed for my middle school team for two years.
Q: Was that at Coleman?
A: That was at Coleman, but it was still Plant's middle school team.
Q: What led you to join crew?
A: I was told about it by a couple of friends, and I also love being out on the water; I like to go kayaking or canoeing, and so that's what sort of enticed me to join the team.
Q: What is your favorite part about crew?
A: It's probably just being out on the water. I like the ocean, river—anything like that, so being out there is a lot of fun for me.
Q: How has crew shaped you into the person you are today?
A: I'd say it's probably made me more organized, just because of the time commitment. I have to have better time management these days and it's probably added some leadership skills into my repertoire, trying to get things done.
Q: What would you say is the most important thing you've learned from this sport?
A: Teamwork is everything. It sounds cheesy but it's true that rowing is one of the most team-based sports and it's important for everyone to be together. You've got to be positive between everyone.
Q: How does teamwork play into practice or regattas?
A: If any single person is out of line with other people it can completely tear apart a race so when we're practicing on the water it's less about, you know, having the power and it's more about how everyone has to be taking the same stroke together and staying together.
Q: What is one of your favorite memories from your time rowing?
A: I really like going to boat dinners where the night before a regatta, our boat goes out and eats dinner together and hangs out. That's usually a lot of fun.
Q: Who is your inspiration, like, for example, a coach, a teammate, or a professional?
A: Our head coach is a pretty good guy and our older head coach, Coach Moseley, was a big inspiration for me.
Q: How far would you like to take crew?
A: Ideally, I want to row in college. I think that'd be really cool.
Q: Have you started looking for colleges for rowing?
A: Yeah, I started last summer, emailing out to various rowing coaches and seeing how that works. Compared to other sports like volleyball, which is a really early recruiting process, rowing is later so closer to senior year is when that will become more serious.
Q: What are you most excited for this season?
A: I'm most excited to just be dropping erg times, be getting a personal record hopefully, and every year there's a new boat to row in with new people because we lose seniors and so it will be fun to get to know those people better and to row with them.