Southern Spirit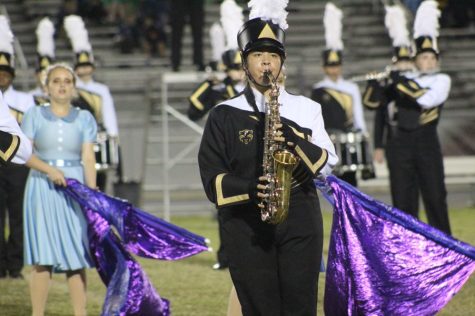 The band program was recognized by the National Band Association, NBA, as a Southern Division Winner of the 2019 Programs of Excellence Blue Ribbon Award, in September.   
"The whole band was so excited [when we heard] and we are so honored," senior Tabatha Vera said. "We worked really hard and having this kind of group dynamic where everyone is so dedicated and appreciates the process of making great music is so rewarding." 
According to band director Brian Dell, there are only three other schools in Florida that have been awarded this title.      
"It's a big honor," Dell said. "Though this award is relatively new… it's a good way to recognize programs comprehensibly both within their community and on a national stage as well." 
The application was a 12-part process that required three years of documentation of various events, ranging from marching band competitions to honor band performances to jazz band concerts. Most of the materials sent were audio recordings and judges' sheets. The longest tape submitted was from wind ensemble's performance at states last year.  
"I believe that the states recording was our best recording out of the whole year," band captain senior Marshall Ferrell said. "I think it was the mindset we were in when we entered the stage to perform, we had been practicing for months and this was the big moment that we had  all been waiting for and I think that everybody tried their hardest on that recording. "   
All division winners are automatically included in the applicant pool for the National Programs of Excellence Award. Eligibility for nationals comes out in December, during an NBA conference in Chicago.  
"We've got a lot of awards flying our way, which is a good thing," Dell said. "It's not about gaining accolades, it's just taking the hard work that our students do… and just getting it exposed out there. All that does is bring notoriety and recognition to Plant High School in general and our band program. It gives these students an opportunity to put [awards] on their resumes when they're applying to college and knowing that when they're playing their instrument, [they're] in a program recognized nationally which gives them something else to stand out in their college applications." 
 Receiving acknowledgement past the regional level could offer more possibilities in the future for the program.   
"This award could be the reason we win other awards or get accepted into other performances," drum major junior Ainsley Neil said. "Being recognized on a national level for our playing ability could pique the interest of conferences across the nation or associations that give out awards. If we had national recognition on our resume, it could be appealing to award Plant or invite us to play at various venues."