#5Strong
In wake of injury, teammates come together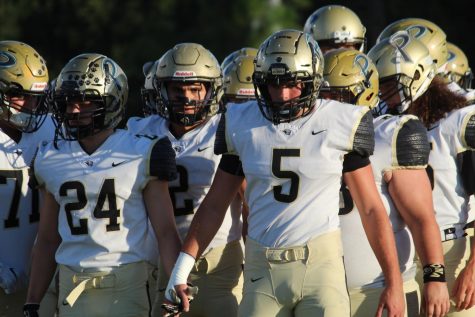 There was something slightly different about the starting linebackers on Friday, Oct. 4 as the varsity football team took on Steinbrenner High School. 
When senior linebacker Ben Hestorff took to the field, he was not wearing his normal number 24 jersey, he was wearing number five. Jersey number five belonged to senior linebacker Jackson Hacker before he sustained a season-ending injury when he tore his ACL playing against Gonzaga High School in Washinton D.C., Sept. 27. 
"It meant a whole bunch to me," Hestorff said. "I just knew how devastating the injury was to him and I knew he wouldn't be able to play again, so I just wanted to play for him in the long run." 
As the team punted the ball to Gonzaga High School, Hacker ran down the field in attempt to tackle the return man, but he did not get a chance to get himself set before the tackle and was pushed, causing his ACL to tear.  
"Jackson was a captain and probably our most experienced defensive player," head coach Robert Weiner said. "In his captaincy he is kind of a spiritual leader for us. He is still a very significant and important part of our whole team and crucial to our success." 
Hestorff was not the only player to honor his teammate. The following week, when the team traveled to Palm Harbor University High School and earned their first win of the season, senior quarterback Tucker Gleason chose to wear Hacker's number five jersey instead of his normal number four jersey. 
"This is his senior season, so the injury was devastating for him because he had put in so much work during the offseason to get to the point he was at," Gleason said. "He never really got to show what he fully could do so I just wanted a way to honor him on the field and to know that he was still with us." 
In the following weeks, senior linebacker Christian Carvajal and junior linebacker Brooks Bak traded in their regular jersey numbers for the Wharton and Robinson games in order to show respect for their teammate.  
"It's just cool to see them wear my number because I remember watching Micah McFadden wear Ty Thompson's number," Hacker said. "It's such a sucky experience, but it's cool that they could do that."  
Hacker underwent surgery on his ACL Tuesday, Oct. 15. Hacker said he woke up in a lot of pain due to the fact that his nerve block didn't work.  
"The first two days were really bad," Hacker said. "But my physical therapist said I'm ahead of schedule with my range of motion and everything, so I guess the recovery is going well."  
After his surgery Hacker still made it a point to be on the sideline at every game in order to support his teammates as they finished out their season with four straight wins. 
"I made it a really big point for myself to be able to walk out with the captains at our home games and stuff," Hacker said. "It's a different perspective when you're on the sideline and not playing, but it was awesome and I'm glad that I was there to support them and still coach them up."