School hosts annual college night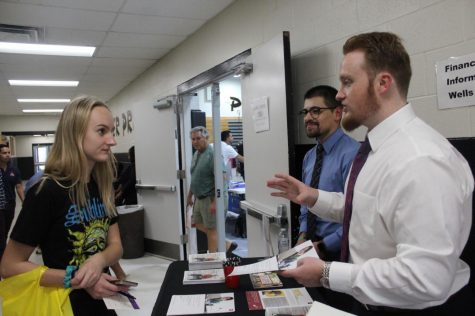 College representatives from around the state, as well as the country, came to college night Sept. 28 to inform students about what each specific college had to offer and what the requirements were to be accepted. 
"The night was so helpful because I have gotten to know the application process and the different requirements needed for different colleges," junior Christiana Dirks said. "I was surprised that some schools are test-optional, and they are more focused on school involvement and leadership." 
Students from many different schools, and from all grades were welcome to attend the event and speak to alumni and representatives from the colleges. 
"It's nice that I get to be here at a young age and learn about what different colleges have to offer," freshman Alexander Wilson said. "Getting to see Air Force and ROTC programs in schools like West Point was really cool for me. It got me interested." 
Students got the opportunity to meet with 126 different colleges through an experience that only comes once a year. Many universties came, whether nearby, like University of Florida and Florida State, or far, like Princeton University. 
"My mom made me come, but I did get a lot of papers and information," sophomore Hunter Feldman said. "Hopefully [the colleges] are going to show me what to do." 
The school event was encouraged by parents, teachers and Plant alumni. Upperclassmen discussed their regret of not attending in earlier years.  
"I'm mad at myself for not coming to College Night prior," senior Robbie Peak said. "This is honestly such a great opportunity to grow as a student." 
With many colleges to choose from, some students who have attended before got to see the college of their choice and get more information from them. 
"I was surprised that Southeastern University was here because that's the college I want to go to, and I was really excited to see them here," senior Christain Germany said. "Over the course of four years you can change your mind a lot, so I think College Night can be a catalyst with helping us to keep an open mind."