Athlete of the Week: Hayden Judge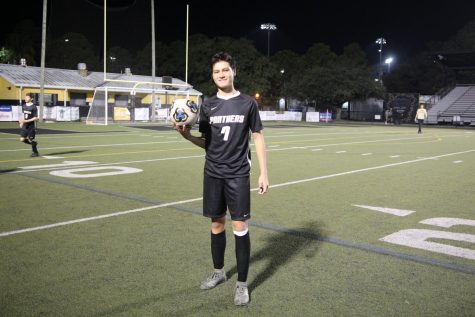 Q: How did you get started playing your sport? How long have you been playing?
A: "I started playing soccer because my dad influenced me to because he grew up in England where soccer is a well-known sport. I've been playing since I was three and I haven't stopped playing ever since." 
Q: What is your favorite part/aspect of the sport?
A: "My favorite part of the sport is that it's fun and I really love the game and playing with all my teammates." 
Q: How has the sport shaped you into who you are today?
A: "It's helped me become better in shape because of all the running. It helps me mentally because there are so many decisions you have to make. The game overall just shapes me to be a better person off the field. [It's taught me] to put people first especially when playing the game. You always have to put them first and that behavior reflects who you are off the field." 
Q: What is the most important thing you have learned from playing the sport?
A: "The most important thing I've learned is just never be selfish make sure your team always comes first in the sport. It doesn't matter how good your stats are, it matters how well the team plays and that's what I've learned." 
Q: What is one of your favorite memories from playing the sport?
A: "My best memory is getting second best in the whole nation when I was 12 years old with my team. It was a good memory because we were considered one of the best teams in the U.S. being second in nations is awesome." 
Q: How far do you want to take the sport?
A: "I for sure want to go to play college if an opportunity to become pro is a chance, then I will for sure take it, but first I just want to make college." 
Q: Who is your inspiration? Is it a coach, a teammate, professional athlete?
A: "My inspiration in soccer, well I have two: my dad inspires me and this soccer player Steven Jerard inspires me." 
Q: What are you most excited for this season?
A: "I'm excited to play our games in the district and win all the games. I think our team is the best in the district and I think that we can win the champions league. I really think our team could go all the way."