Athlete of the week: Hayden Stern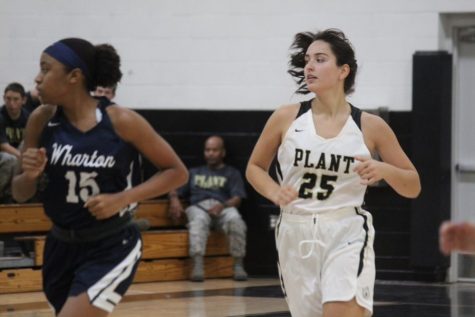 Q: How did you get started playing your sport? How long have you been playing? 
A: I started playing basketball when I was seven for my church's kids basketball league. Playing sports is practically a requirement for my family, so basketball was just one of the many things I tried as a kid. I ended up liking it the most, so I've stuck with it for nine years and counting.   
Q: What is your favorite part/aspect of a sport? 
A: My favorite part of basketball is how much control I have. It's both a physical and a mental game for me. If I'm in a particularly weak mind state, I can compensate with my physical skills and vice versa. 
Q: How has the sport shaped you into who you are today? 
A: The culture of this team has completely changed my outlook on life. I've learned so many things my parents or teachers could never have taught me. We've all learned how to respect each other and be selfless when it comes to everyday tasks. We've also learned how to be truly humble by letting our actions speak for us. It's crazy how much our coach has taught me in these past two years. 
Q: What is the most important thing you have learned from playing the sport? 
A: The most important thing I've learned from playing basketball is how to put myself last. On a daily basis, we all go out of our ways to make sure no players, coaches, or assistants are inconvenienced for us, whether it's giving up a seat on the bench or cleaning out the locker room.  
Q: What is one of your favorite memories from playing the sport? 
A: My favorite memory is when Lydia Lowry got a ball stuck in the hoop and it took at least five minutes for us to get it down. I know that sounds so anticlimactic, but it was so funny how long it took us to get this ball down, considering how consistently we win the county GPA award. Practice is so serious that anything humorous makes it 10 times better. 
 Q: How far do you want to take the sport? 
A: I'm planning on playing through high school because college athletics is one of the hardest schedules to maintain. However, I know every girl on my team could easily handle the pressure. 
Q: Who is your inspiration? Is it a coach, teammate, or professional athlete? 
A: My biggest inspiration is my teammate Anika Johnson. She's a junior who is in basketball, golf, and band. She has such a strenuous workload, yet she manages it all without a single crack in her smile. In addition, she's recently gone through a terrible family loss, but never fails to be there for us, even when she's hurting. She's supported us through all of her troubles, including her most recent injury which she just received surgery for. Whenever I'm feeling stressed or overwhelmed, I just think about how strong she is. 
Q: What are you most excited for this season? 
A: I'm so excited for where we are going as a team. There's a buzz in the air constantly because we all know the places we can go and the teams we can beat if we just try hard enough. We have girls with such amazing personalities and skills that makes this year so special.