Ariana Grande impresses fans at concert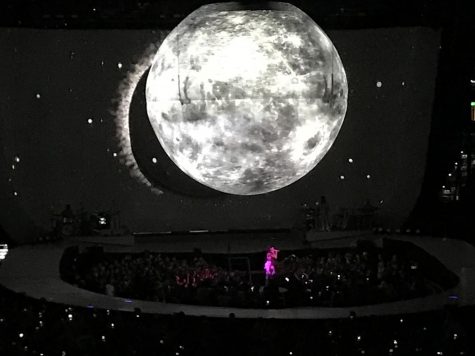 On Sunday, Nov. 24, Ariana Grande finally performed her album "Sweetener" in Tampa. She originally planned to come in May, but she cancelled due to an allergic reaction incident. 
The album consists of 15 songs, but she did not sing all of them.  
The songs she sang from her "Sweetener" album were "R.E.M," "Breathin," "Everytime," "The light is coming," "No tears left to cry," "God is a woman," "Successful" and "Sweetener." 
Each song had a different beat, and she also sang songs from her previous albums. 
The songs she sang from her previous albums were "Be alright," "Side to side," "Moonlight," "Into you" and "Dangerous Woman." 
Finally, the songs she sang from her newest album "Thank u, next" were "Break up with your girlfriend, I'm bored," "Thank u, next," "7 rings," "Fake Smile" and "NASA." 
Her songs were spectacular especially when she sang the high notes. The lyrics of her songs are significant and relatable because some of them are about getting over relationships.   
The musical duo "Social House" opened the show for Ariana Grande. The songs they sang had a chill beat, but they were mediocre for a musical duo. It was disappointing to find out that they were not singing in Grande's song "Boyfriend" which features them.  
Grande had a surprise for fans to make up for her cancelled concert in May. She sang songs from her past Christmas albums, which were "December," "True love," "Wit it this Christmas" and "Santa tell me." 
The stage did not have the best set–up for the show. When she was on the actual stage, it was hard to see her. It was especially hard for the fans sitting on the upper levels to see Grande because the TV screens were so small and on the sides.   
Although the stage was not ideal, she did have great effects such as the colored lights and props such as a car, umbrellas and chairs.   
She also had loads of back up dancers behind her. They danced very well, but there were too many of them around her, making it her hard to see her. The only way to recognize Ariana was her iconic long ponytail.   
Props to Ariana Grande's stylist, because her wardrobe was stunning. The best outfit was for her "Thank u, next" song, which was a Santa Claus outfit to represent the iconic "Mean Girls" talent show outfits.  
Ariana Grande is a great artist not only because she can sing but also because she is a great dancer.  
She certainly delivered a memorable show that Tampa will never forget.