Caught in the stars
Astronomy club prepares for new year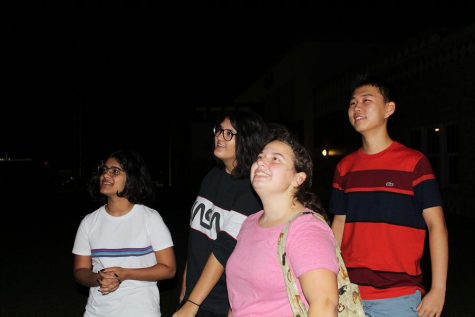 At school in the black of night whilst snacking on space-themed food and peering through large metal telescopes, members of the astronomy club gather for a typical meeting.  
Students who share an interest in the study of space often join the club to participate in group discussions and observe the planets, stars, and the moon. 
"I joined my freshmen year because astronomy has always been a passion of mine," president of astronomy club and senior Julie Elorza said. "I wanted to be involved in a science extracurricular where I could find similar people."  
The club has monthly meetings where they set up telescopes and look at the planets and the moon, a specific interest of freshman Matthew Daly. 
"I have a really huge interest in space," Daly said. "I just hope we get to look at stars. I'mexcited to look at different planets too, I think it's all really interesting." 
Board members also give presentations about current astronomical events while members enjoy stargazing.  
"We have two huge telescopes we bring out, and there's always new stuff to look out at in the night sky each month," presenter and junior Alex Langer said. "Mr. Keene knows a ton about space, so he usually talks to us about it while we are stargazing. All around, it's a pretty relaxing club where we go and learn about space."  
Chemistry teacher Jeffrey Keene is in his second year as the club sponsor. Keene was an astronomy teacher at Brandon High School and now hopes for astronomy to be a class at Plant.Keene expressed the respect he has for astronomical observations and exploratory opportunities found through observing space. 
"There's so much up there for us to discover," Keene said. "I think everybody has some interest in space…if you think about the universe for just a minute, its extraordinary."  
The club does different events throughout the year, such as Dale Mabry Elementary's Space Night, where they help set up and do activities with the elementary students. The club alsoplans to coordinate a few trips throughout the school year.   
"We've been talking about a field trip to the Kennedy Space Center which is really exciting,"secretary of the astronomy club and sophomore Amy Cha said. "I'm most excited for seeing a live launch because it's something I've always wanted to experience."