Athlete of the Week: John Prudhoe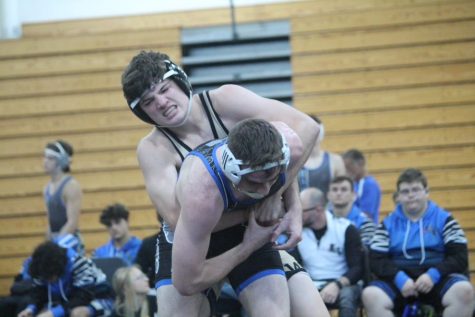 John Michael Prudhoe is a sophomore wrestler who started wrestling his freshman year. Prudhoe enjoys wrestling and the discipline it's taught him. 
Q: How did you get started playing your sport? How long have you been doing it? 
A: So my friend just asked me if I wanted to do wrestling and I knew I didn't want to play football or anything like that, so we joined, and I've been doing it for two years. 
Q: What is your favorite part/aspect of the sport? 
A: Definitely, it's like really hard. You honestly die out there, but I really enjoy tournaments and winning. 
Q: How has the sport shaped you into who you are today? 
A: I think it has made a lot of things easier. Once the season is done and wrestling is over, school is so much easier, I'm not tired and have nothing to really worry about so it's made me look at life differently. 
Q: What's your favorite memory from wrestling? 
A: My first match. I was terriblem– it was terrible—but I won. I lost every other one after that, but I won my first one and to this day it's still my favorite memory. 
Q: What are you most looking forward to this season? 
A: I'm most excited for this season to end—no I'm just kidding. I'm excited to win, maybe go to regionals or districts. I do look forward to the end though because it is hard, especially getting back to it after the break it's gets a lot harder.  
Q: What's the hardest thing about wrestling for you? 
A: Everything. The conditioning. The practice is really hard. The hardest thing though is cutting weight because sometimes I can't drink water for a day or two days. If I could cut only five pounds, that would be so much easier; I'm tired of cutting like 12 pounds.  
Q: Why do you like being on the wrestling team? 
A: It's not just the wrestling aspect; it's definitely the team. At first you don't want to go but then the team hypes you up, and that's why I'm still here. It's the team.