Viva la arepa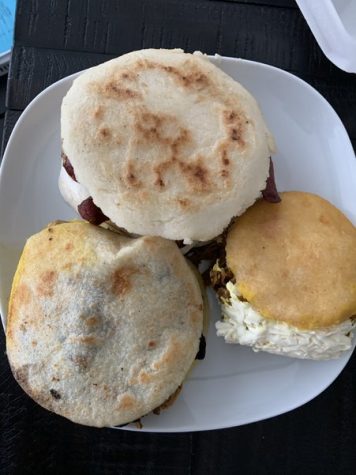 As a Venezuelan I was born eating arepas, so when the opportunity presented itself that I could drive through Tampa to try different arepas, I didn't even have to think about it. I went to three different places and they were all amazing.  
Mr. Junior Latin Food 8.5 /10  
Mr. Junior Latin Food is at 4800 N Dale Mabry Hwy and was the closest place to my house. The arepa that I ordered was a fried arepa with carne mechada and white cheese. The meat was delicious, I loved it and it reminded me of my grandmother's cooking. The cheese was a little salty and I didn't like that it was all in front, instead of being spread all over the arepa. Since the cheese was super salty it took over the whole arepa flavor and all you could taste was the salt. I liked that it was fried because the dough was harder, and the filling did not fall out of the arepa, while I was eating it. 
Perdigon El Sabor 7/10 
 Perdigon El Sabor is a restaurant on N Dale Mabry Hwy. Since my family and I had tried it before, I knew it was going to be good. I ordered an arepa with chicken, sausage, avocado and hand cheese. The arepa itself I liked a lot and it tasted very homemade. The chicken and cheese also tasted delicious, but I didn't love the chorizo. The cheese was so so good it reminded of a cheese my dad used to buy at a food stand in front of my house in Venezuela. a. It had a lot of flavor and was an interesting and surprisingly good combination. With so much stuff in it, it was challenging to have a bite with each of the ingredients, but individually it tasted good. 
Nico's Arepas Grill 9.5 / 10 
 Nico's is a little further at 8303 N Armenia Ave, but it's worth it. I ate an arepa that had grated cheese, beans, meat and plantains. I enjoyed the combination of salty and sweet in the arepa, the plantains added the sweetness that I didn't know I'd love so much. The arepa reminded me a lot of Pabellon which is the national dish of Venezuela that contains rice shredded meat black beans and plaintains.. They could've added a bit more cheese, but the taste as such was phenomenal. The arepa was very soft and cut all the way which made it hard to eat without all the filling falling out but aside from that it was definetly the tastiest. 
In conclusion, the best arepa is… Nico's Arepas Grill. Overall, the taste of the whole arepa was great and I loved how the filling was a whole meal. It's really worth the fifteen minutes it takes to drive to the restaurant. Also, the restaurant also sells Venezuelan sweets and snacks, I will most certainly be back.