Resource officer retires after 11 years at Plant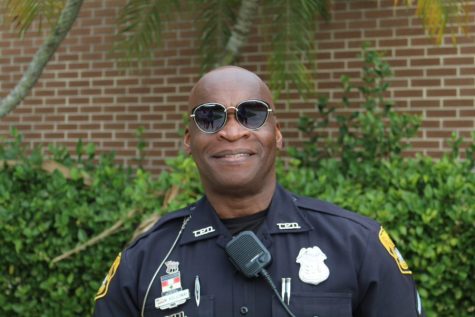 From patrolling the streets to working on campus, Plant's resource officer, Mark Holloway, says he's spent his career on campus keeping the school safe. After 11 years, Holloway is retiring from his position at the school.  
"I do all that I can to put the bad guys in jail and do all of the good things that I can do as an officer," Holloway said. 
After years of working at school, Holloway said his favorite aspect of being resource officer was the students, administration and staff. After working at Coleman for a few years, Holloway became Plant's resource officer in 2006.  
 "Coming in everyday, you never know what you're going to get," Holloway said. "From bell to bell, it was always an interesting day because you never knew what was going to happen." 
Over his time spent at Plant, Holloway said that he has made many great memories, his favorite being with students he used to help. According to Holloway, many past students would come back to visit him after they graduated.    
"I had one student who used to be here since the ninth grade and I think because of the impact I had on him, he's now a Tampa police officer," Holloway said. "He's now riding in his own patrol car doing his work and he used to be one of my students and he told me that I inspired him to be an officer." 
Holloway also patrolled the campus halls while his two children attended.        
 "I was here walking the hallways with them," Holloway said. "I stayed here for so long just because I loved it, simple as that. It's been a pleasure, but it's time to move on and give somebody else a chance." 
Outside of being a resource officer, Holloway also travels with the Tampa Bay Buccaneers. Holloway said he's been traveling with the Buccaneers since 2015. 
"I'm planning on continuing to travel with the Bucs," Holloway said. "It's definitely something I'm looking forward to. I'm part of a team of security, there is about seven of us officers who were hand–selected by the Buccaneers to travel with the team when they go out of Tampa. Last year, we went to London and I'm just part of that crew. I work closely with them for team security."  
Spanning over his career at Plant, Holloway has noticed the wide variety of students that pass through the halls. When working, Holloway said his main priority was creating a safe environment at school. 
"The school has always been a great school and we have a different clientele of students every year, so you never know what you're going to get," Holloway said. "I just try to make the day go by well and let the students and staff know that they are safe on this campus. That's the main thing I try to get through to everyone."  
Over the years, Holloway says he has built close relationships with students even outside of school.  
"I think my relationship with the students is great," Holloway said. "Some know me well some know me by face. My number one thing is students don't care how much you know until they know how much you care."   
A former student even invited Holloway to her wedding and baby shower in April. 
"I have a lot of great relationships that have been built over the years," Holloway said. "Some people think I only ever know my bad students because I've had to arrest them, but I know a lot of my great students and I always want to keep myself approachable."  
Through his career of service to the community, Holloway says he has resonated in a special way with his time spent on school grounds. 
"When I first started 25 years ago, I raised my right hand to serve and protect," Holloway said. "You want to make a difference in the world, and I did that. The highlight of my career is working on this campus and the impact it's had." 
In the end, Holloway said that he wishes nothing but the best for the school after he leaves. 
"I hope the school remains safe and sound," Holloway said. "There have been many students that have walked these halls and gone on to do great things. It's great going around town and seeing former students and they recognize you and are happy to see you. You know that you served them well to the point that they appreciate you and they love you. It's been a great run."