I wolf you
A review on the second season of the Netflix show "You"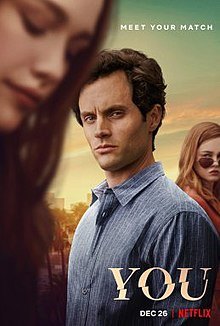 On Dec. 26, Netflix released the second season of the show "You," just in time for everyone to binge the addicting series over their winter break. With the new season, I anticipated the release since the last season left much debate on about what season two would be.   
When I started watching the show, I honestly didn't think it was living up to my anticipation. Still, after a few episodes, I was hooked, watching episode by episode until eventually finishing in three days. Overall, the series took me for lots of twists and turns with the last plot twist completely changing my outlook on season two.   
I think the series at heart has a lot of fundamental problems that shouldn't be ignored, though. For example, it idealizes serial killers and stalkers like the main character Joe (Penn Badgley). His portrayal as a protagonist, and his actions are usually justified, but when the series attempts to show his faults, it falls short as the characters like Candace (Ambyr Childers), Joe's ex-girlfriend, did nothing to change the depiction of Joe.   
Concerning the characters of the second season, I enjoyed most of them and their performances on screen. New characters from the season included Love (Victoria Pedretti), Joe's new love interest, Forty (James Nicholas Scully), her brother, and Delilah his neighbor. Some such as Forty had deep character arcs which transformed the show. Forty, for example, started as an unlikeable character, serving mostly as an annoyance, but throughout the season, he transitioned into a vital part to the show.  
No one was expecting the twist that happened during the last few episodes of the show, Love being just like Joe in their twisted perspectives. I thought this changed how I felt about the show; at first, I thought it was just like the first season but with different characters, but this turned the season.   
After re-watching some episodes from the second season, there are signs of Love's real personality, and I think the references to future events in subtle signs are what is so intriguing about the show. 
Lastly, I would like to talk about the final scene, which had a lot of people mad at Netflix for Joe is looking at a new love interest even though his life is supposedly perfect with Love. His interest in another woman had to happen as it's a fundamental characteristic of Joe, it is proven he likes the hunt and doesn't like settling, so the repetition of his previous actions was just inevitable.   
Though I think it was annoying that the plot will repeat like it has already, I think that's what must happen if they want to portray Joe the way he truly is. Overall, the Netflix series "You" has problems fundamentally in how they show murderers like Joe but ultimately it is very interesting and captivating to watch and I can't wait for the third season.