Meet the candidates
A look at the 2020 election
Source: OnTheIssues.org, respective campaign websites  
The Florida primary voting will take place on March 17, and the remaining candidates have varying views on the issues that will affect the public should they take office. Things like the economy and social views held by the candidates may affect voters' opinions on them. To inform voters about the political stances of the remaining candidates in the race, this list shows some of the positions they've taken on several different policies.
Republican Candidates
Donald Trump: Donald John Trump is the current 45th President of the United States. Before running for president, he was a TV personality and businessman. He is running for re-election in the upcoming 2020 race.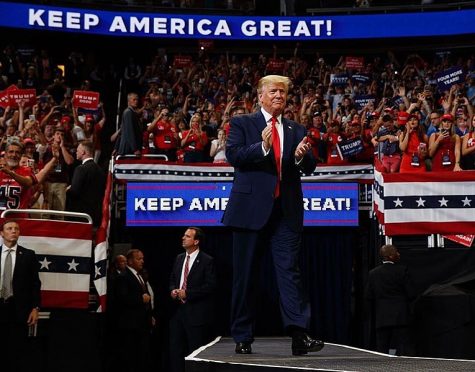 Economic and Foreign Policy:  
Corporate 

tax rate decreased from 35%

 to 21%

 (Jan. 2018)

 

7.3 million jobs created since election

 

1.5 million jobs added for women in 2019

 

2018 annual GDP growth was 2.9%

 
Youth unemployment reached lowest rate in nearly 50 years Nov. 4, 2019

 

Implemented a 25% global steel tariff 

and 10% global aluminum tariff 

 

Wants to reduce reliance on foreign producers 

 

Withdrew the US from the Trans-Pacific Partnership

 

Renegotiated the North American Free Trade Agreement into the United States-Mexico-Canada Trade Agreement

 
Social views: 
Supports the death penalty 

 

Hopes to "revive the coal industry" and end efforts to curb carbon (March 2017)

 

Believes it u

nfair to serve a life sentence for nonviolent drug offenses (Feb. 2019) 

 

Opposes abortion, against Planned Parenthood

 
Withdrew from the Paris Agreement on climate change June 1, 2017

 

Against gun control, but wants to lower the amount of illegal firearms

 

 
Bill Weld: William Floyd Weld is an attorney, businessman, author, and Republican politician who served as the Governor of Massachusetts from 1991-1997. He is running for the Republican nomination for the presidency.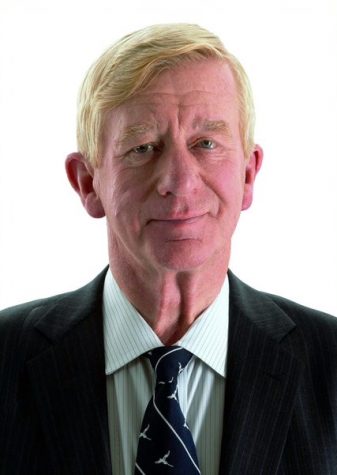 Economic and Foreign Policy:   
Top priority is to cut spending and taxes 

 

Wants to balance the federal budget similarly to how states budget 

 

Views Trump's trade wars as destructive to the economy 

 
Wants to restore "deep connections" with European, Asian and Middle East 

allies,

 including Israel

 

Rejects isolationist policies 

 
Social views:  
Values moderation on social issues

 
Pro-choice

 

Supports the death penalty 

 

Supports LGBT rights 

 

Disagrees with Trump's immigration policies (Feb. 2019)

 

Prefers a guest worker program rather than a path to citizenship

 for immigrants

 
Democratic Candidates 
Joe Biden: Joe Biden is a Democratic candidate and politician who served as one of the youngest Senators at age 29. Biden represented Delaware in the Senate from 1973 to 2009 before becoming the 47th Vice President under Barack Obama.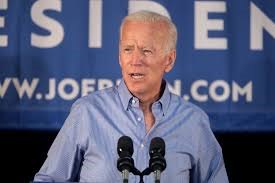 Economic and Foreign Policy:  
Reduce spending by $1 trillion, increase taxes by $600 billion, cut debt 

 

Wants to end "forever wars" in the Middle East 

 

Supports reentering the Iran Nuclear Deal 

 

Strengthen treaties between Russia and US 

 

Work with allies for a denuclearized North Korea 

 
Strengthen the agricultural sector and rural communities

 
Social views:  
Pro-choice 

 

Supports LGBT rights, including transgender military personnel 

 

Supports the 

Me Too

 movement

 
Supports free community college tuition and state universities (April 2019)

 

Rejoin and raise standards of Paris Climate Accord 

 

Supports gun reform, including buying back assault weapons and requiring background checks 

 
Bernie Sanders: Former Representative and current Senator from Vermont, Bernie Sanders is campaigning for the nomination as a Democrat. Sanders served 16 years in the House of Representatives and is now on his third term as a Senator.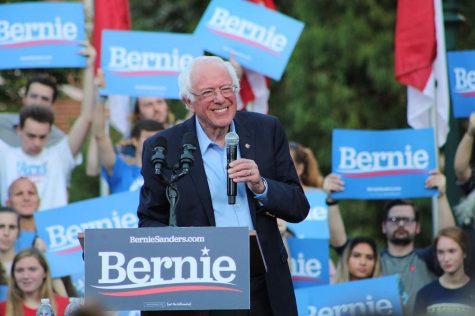 Economic and Foreign Policy:  
End US support for the Saudi-Arabian backed intervention in Yemen

 

Remove troops from Afghanistan, Iraq and Syria 

 

Strengthen pro-democracy alliances to fight authoritarianism

 
Establish an annual tax on the top 0.1% of US households 

 

Wants to revitalize rural communities 

 

Higher corporate taxes for companies with large wage 

gaps between workers and CEOs

 
Social Views:  
Supports unions

 

Supports voting rights for prisoners, including incarcerated felons

 

Wants to e

liminate private prisons

 

Congressional representation for D.C. residents 

 

Free meals in schools 

 
Cancel student debt, free public tuition

 

Decriminalize marijuana

 

Supports climate change action 

 

Supports gun control