Coronavirus concerns
Two cases of coronavirus confirmed in Florida by CDC, third case found 
According to the Tampa Bay Times, the U.S. Centers for Disease Control and Prevention has confirmed two COVID-19 cases in Florida: one, a 20 year old Hillsborough county woman, and the other, a man in his 60s in Manatee county.  
The Hillsborough woman, who is quarantined and receiving treatment at home, recently traveled from Northern Italy through Tampa International Airport. The Manatee man was hospitalized with pneumonia symptoms.  
A third Hillsborough woman, who traveled with the previously identified woman, has tested "presumptive positive" for COVID-19. This means the CDC has not verified the diagnosis yet. The woman is currently isolated.  
According to a spokesperson for the governor as reported by the Tampa Bay Times, this is "not a random chance of someone catching" the disease.  The two women shared a kitchen and bathroom while in Italy.  
Governor Ron DeSantis declared a state of emergency March 3rd after the two confirmed cases were announced. Currently, DeSantis is looking into hiring more people and has already spoken to House and Senate leaders.  
Hillsborough County Public Schools is taking proactive measures against COVID-19 according to their website. The county plans to install hand sanitizer dispensers on every school bus and at every school entrance "in the coming days". The county also plans to direct custodial staff to use the same cleaning methods they would use to combat flu, focus extra cleaning on places likely for disease to be spread, and looking into outside sources to deep-clean facilities "if that becomes necessary".  
In the event of a case, the HCPS website says that any large scale response will be managed by the Florida Department of Health. However, smaller steps, such as asking specific students to stay at home, isolating affected classrooms, minimizing large gatherings and as a last resort, school closure, may be taken.  
Teachers are being directed by the district to upload assignments whenever possible to Edsby for absent students. The district is also "exploring options" for remote access to schoolwork in the event of a closure.  
FAQ 
Here, we've gathered a few frequently asked questions surrounding the coronavirus to fight misinformation. Want more clarification? The Tampa Bay Times has an updating page on the outbreak at tampabay.com/coronavirus/. The CDC and Hillsborough County Public Schools websites also has information regarding the coronavirus.  
What is coronavirus disease 2019 (COVID-19)?  
There are many types of human coronaviruses according to the CDC. This recent outbreak of COVID-19 is a novel coronavirus, meaning that this strain is not the same as common coronaviruses that circulate and cause mild illness like the common cold.  
The disease is also known as severe acute respiratory syndrome coronavirus 2 (SARS-CoV-2). This outbreak is related to a severe acute respiratory syndrome outbreak in 2002-2003, but this strain is not the same virus.  
What was the source? How does it spread?  
It is suspected that the virus was spread from animals to humans, but now the virus spreads from person-to-person.  
The CDC says that most information about COVID-19 is gathered from existing knowledge of other coronaviruses, and there is still more to learn. 
The main way the virus is suspected to spread is between people in close contact, which is about within six feet of each other. When an infected person sneezes or coughs, the respiratory droplets produced can infect others by being inhaled into the lungs or ingested. It is also suspected that contact with infected surfaces or objects also spreads the virus, but this is not the main way the virus spreads.  
What are the symptoms? How are they different from allergies?  
Allergies: itchy eyes and nose, sneezing, runny nose, asthma symptoms such as wheezing or shortness of breath, coughing  
COVID-19: fever, severe headaches, coughing, shortness of breath 
How can I protect myself?  
The CDC recommends to:  
Wash your hands often and properly. 

 

Use alcohol-based hand sanitizer with at least 60% alcohol. 

 

Avoid close contact with people who are sick. 

 

Avoid touching your eyes, nose and mouth. 

 

Stay home when you are sick. If you have a fever, stay home. 

 

If you are sick, wear a facemask. Those who are well do

 not 

need a facemask.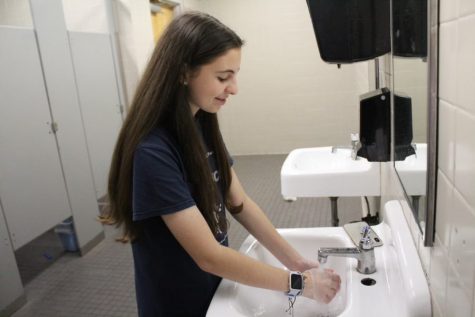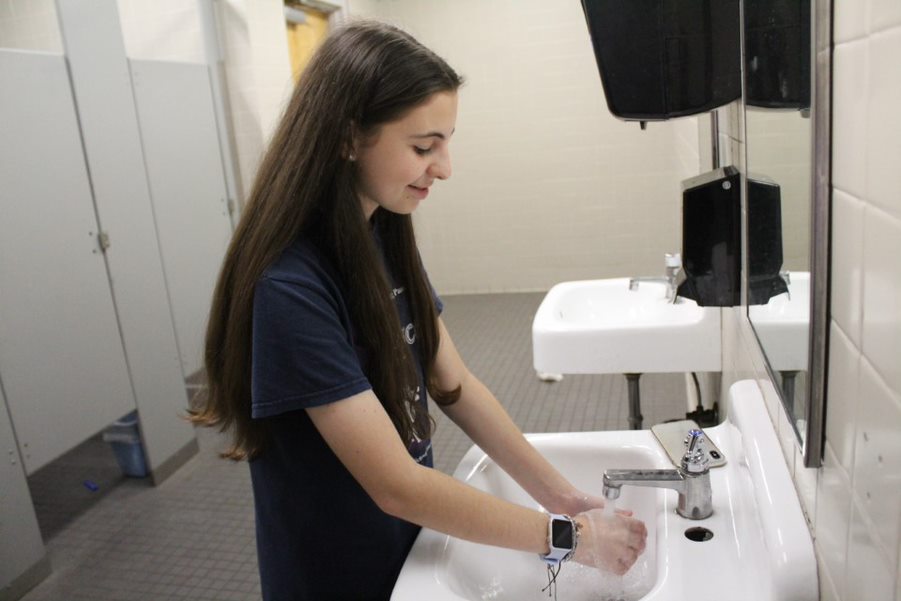 The CDC's guide to washing your hands 
Wet your hands first

.

 
Temperature doesn't matter. Turning off the water in between to conserve hasn't been proven as a moment of significant germ transfer.  
Apply soap and lather for at least 20 seconds

.

 
Singing "Happy Birthday" twice is long enough. Make sure to lather between your fingers and under your nails.  
Rinse your hands well and dry

.

 
Drying is important because germs are more easily transferred between wet hands.