Top 5 Playlist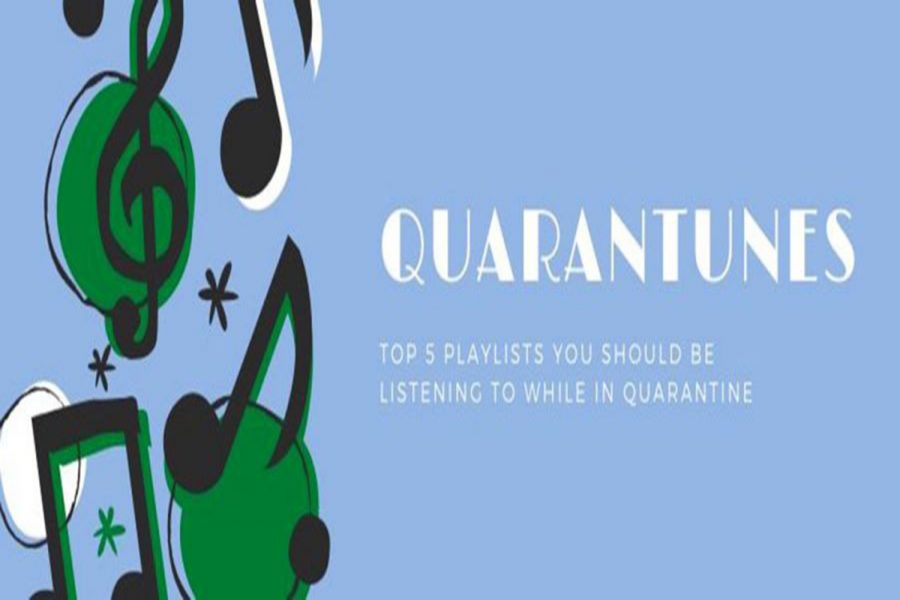 Playlists are the main way I consume music, and I have tons of playlists on my Spotify (@alexis.perno). I organize each playlist around a common theme, mood or sound, and I take that very seriously; there's nothing more irritating to me than a song that feels out of place on playlist. If it doesn't fit, it's time to make another. So, while we're all stuck in quarantine, I thought I'd share my top five favorite playlists I've made to brighten up your music scene. My music taste is nothing but eclectic, so I am confident you'll find a song that resonates with you.   
5. It's the 2000s and you're in the club 
Let's kick off this countdown with some throwbacks! This playlist is full of 2000s classics, including plenty of Britney Spears, Black Eyed Peas, Katy Perry and Rihanna. Feeling down while quarantined? This is the perfect playlist to get your blood pumping and nostalgia flowing. These are the dance songs your 7-year-old self wanted to dance to, but probably shouldn't have been listening to when you were that young (looking at you, Kesha!).  But hey, we turned out fine, right?  
Notable tracks:  
"Super Bass" by Nicki Minaj  
"Like a G6" by Far East Movement  
"Rock Your Body" by Justin Timberlake  
"The Sweet Escape" by Gwen Stefani  
"Fire Burning" by Sean Kingston (my personal favorite!)  
 4.
Smoke through tangled hair/Close your eyes, my love 
These two playlists are separate but very similar. They're both indie and/or alternative with hints of lofi, but they have different vibes — hence the separation. Smoke through tangled hair is darker in tone and content and has hints of a grunge influence. This makes it perfect for late night listening, especially after a long day of wanting to leave the house. Artists like Arctic Monkeys, Jessie Reyez and BROCKHAMPTON can be found on this one.  
As for close your eyes, my love, this playlist is the easy listening of indie: artists like Beach House, Rex Orange County, Summer Salt, Her's and Mac DeMarco make up this playlist. Definitely softer around the edges, this playlist is one to put on in the background and chill out to.  
Notable tracks for close your eyes, my love:  
"Sunflower" by Rex Orange County  
"Sound & Color" by Alabama Shakes  
"Sleep Apnea" by Beach Fossil  
Notable tracks for Smoke through tangled hair:  
"Stop Playing With My Heart" by Avid Dancer  
"No Woman" by Whitney  
"Despair In The Departure Lounge" by Arctic Monkeys 
3. Guitar strings in the rain/The concept of you
Another split between two very similar playlists! These two are classic rock only but split based on sound. Guitar strings in the rain is much softer, a gentle sound you can relax to with just a few exceptions to keep your ears engaged. On that playlist, you'll find greats from Crosby, Stills, Nash and Young, Jimi Hendrix, Van Morrison, The Band, Carole King and more.  
The concept of you is a playlist of some of the very best, most famous classic rock. Here, you'll find tracks you'll definitely recognize and be able to sing along to. With a more upbeat sound and brighter tone, you'll find classics from Chicago, Creedence Clearwater Revival, Led Zeppelin, The Rolling Stones, Pink Floyd, Bob Dylan and more.  
Notable tracks from guitar strings in the rain:  
"Wooden Ships" by Crosby, Stills & Nash  
"The Boxer" by Simon and Garfunkel  
"Nights in White Satin" by The Moody Blues  
"Tin Man" by America   
Notable tracks from the concept of you:  
"Lean On Me" by Bill Withers  
"Southern Nights" by Glen Campell  
"Little Wing" by Jimi Hendrix 
"Me and Bobby McGee" by Janis Joplin  
 2. 
Sunset 
This playlist was so close to being number 1! It's definitely a playlist I keep coming back to. I made it back in November when I was feeling like none of my playlists captured the exact mood I was feeling. So, I got to work, and this is the result! Sunset is a playlist that sounds like nostalgia. It has both a soft, rolling sound and upbeat, smiling songs. It's a playlist full of contradictions and yet still cohesive. Some appearances you may recognize include Lorde, Florence + The Machine, Hozier, Coin, WILLOW, BROCKHAMPTON and Tyler, The Creator. On Spotify, the description is "A 2015 white Hyundai Tuscon, a half-full tank of gas and the nostalgia of driving Florida streets during my senior year". While this isn't the senior year I planned for, this playlist captures both the longing and the gratefulness I'm experiencing. Because I intended to listen while I drove, this playlist is great for easy listening and background music to homework.  
Notable tracks:  
"Sunflower" by Post Malone  
"Goodie Bag" by Still Woozy  
"Honeypie" by JAWNY  
"RUNNING OUT OF TIME" by Tyler, The Creator  
"Superposition" by Young The Giant  
1. Caramel 
This is my absolute favorite playlist of all time! This playlist of smooth hip-hop and something like indie rap. These songs are heavy, slow but upbeat, dark tone and content with a light beat. These are the songs you listen to when you want to listen to the lyrics. You'll recognize a lot of names on this list, but there are some fantastic underground artists you should definitely check out. Frank Ocean, Dounia, Aminé, Smino, Mac Miller, Kevin Abstract, SZA, Tyler, The Creator and BROCKHAMPTON all make appearances. If you've heard of these people but have yet to listen, now's a great time to explore their sound. This playlist is full of surprises, and each song is hard to put into a category. It's one of those playlists you just have to listen to to fully understand.  
Notable tracks:  
"Novacane" by Frank Ocean (my favorite song of his!)  
"Terry" by Action Bronson  
"SUGAR" by BROCKHAMPTON  
"Spice Girl" by Aminé 
"Peach" by Kevin Abstract  
"Airplane Mode" by Limbo  
"East Coast Hiding" by Dounia