Digital connection
In this new and bizarre time of being stuck in your house, seeing only your immediate family, and possibly at your wit's end with them, you are desperate to feel a connection with friends. Under the circumstances of nightly curfews and self-quarantine, people are seeking comforts in modern technology. In this very digital age, Google Classroom, FaceTime and Zoom have aided people and made them feel some sense of normalcy.  
Google Slides are among the long list of new sources people are using to document and bond with friends and those they care about. Usually, the application is for school projects and presentations. Since this newfound time can be scary, people have been using such slides to create anything from journal-like entries of their lives during such an unusual circumstance, so that they can share for generations to come, or as simple as sharing music and entertainment so that friends can bond over their favorite characters in a binge-worthy series.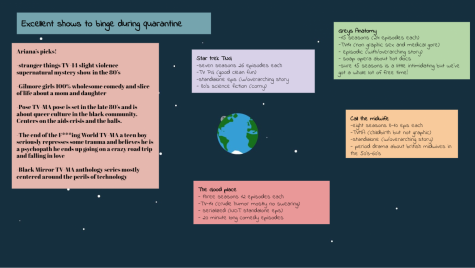 Junior Gracemary Allen saw this trend and decided to jump on board. Her and several of her friends have created a slideshow exclusively to express themselves in any way they feel.  
"I created it because I was bored in quarantine and I missed getting interaction with friends," Allen said. "My favorite part is just the surreality of what people have created. Give teenagers a blank space and they go wild."  
Looking through Allen's slides, you can see that each person invited has their own unique and individual style. No one person has the same creative thought process, so the more you scroll, the more you see a chaotic group of clashing aesthetic visions that create a beautiful chaos.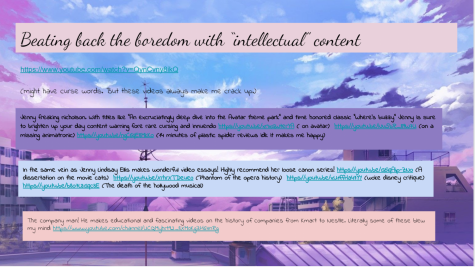 "I think the quarantine slideshow is a great idea because it's a way for all of us to have a good time with each other without actually being next to each other," says sophomore Gianna Angelliti. "It allows us to let out how we are feeling in a positive way."