Play Ball! But stay in the stands!
Could this plan be the norm for the MLB in 2020?
The MLB season was two weeks away from its premiere until every sports league was either suspended or cancelled due to COVID-19. Since then, MLB Commissioner Rob Manfred and the MLBPA have been trying to figure out what they should do to provide fans with as many games as possible for the 2020 season. 
It is highly likely that there will not be full 162 game schedules for all 30 teams in 2020. It is also likely that whenever the season begins, fans will not be allowed to attend games to support their home team. The last time this happened was when the Baltimore Orioles hosted the Chicago White Sox in April 2015, during the Baltimore riots. 
There have been many ideas spread around by Manfred and the MLBPA. Their latest plan involved having all teams return to their Spring Training venues in Florida and Arizona. Teams would play each other at their Spring Training stadiums, with exception to the Rays, Marlins and Diamondbacks, who all have domed stadiums in those states. The season would start in May and teams would play seven-inning doubleheaders in order to play as many games as possible. The Designated Hitter would also likely be implemented league wide. Fans would not be allowed to attend games, and there would be a whole new division alignment.  
With this new alignment, there could be an expanded postseason. Since 2012, the postseason has included 10 teams: six division winners and four wild card teams. This year, the MLB could consider adding four extra teams to the postseason or having a 30-team tournament. The World Series would take place in late November between the Cactus and Grapefruit League Champions. The games could be hosted at indoor stadiums in Florida or Arizona including Chase Field, Marlins Park or Tropicana Field. 
In order to maintain the practice of social distancing, there would be no mound visits allowed. There would also be robot umpires; something that is already being tested in the Atlantic League of Professional Baseball. Players would also be sitting six feet away from each other in the stands rather than normally sitting in the dugouts.  
There are a bunch of questions to ask here: Will umpires still be getting paid? Would relief pitchers still be sitting with each other in the bullpens? If the defensive team wanted to pick off a baserunner, would the infielders be able to hold the runner on the base? And the biggest question is, how far does the batter have to stand away from the catcher?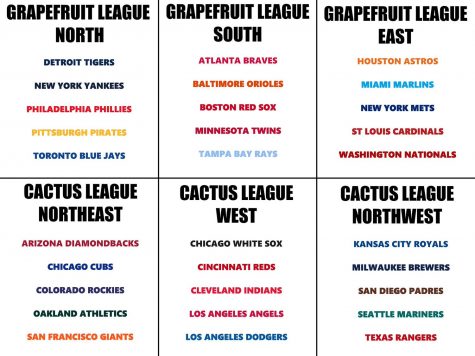 The MLB talks about implying these rules in order to maintain social distancing, but the game of baseball has always involved being together, whether it's touching the same ball or tagging people with your glove. The MLB needs to realize that every aspect of the game needs to be looked at here, and if they can't figure out how to keep social distancing for an entire game, then they should just wait until the virus has folded.  
 No matter what happens, it is obvious that the 2020 MLB season will be like no other. Commissioner Manfred and the MLBPA have been thinking of rule changes for years now. If they want to test any of those new rules, such as the three-batter minimum or using robot umpires, this would be the year to do it. They can try anything that they want and if they work out well, they can continue to use them. If they don't work out, then they don't have to use them ever again. With this season being like no other, it doesn't hurt to try anything.