A Modern Throwback
With the release of her second studio album, Dua Lipa comes back with a high energy soundtrack that takes you through decades of dance and pop music
Dua Lipa triumphantly returned with her highly anticipated sophomore album, "Future Nostalgia," on Mar. 27. The album lives up to its title featuring a mix of modern sounds and many decades worth of influence that creates a solid pop album that I will undoubtedly revisit. 
Artists have been going back and taking inspiration from the past for years. Dua Lipa is no different in this tactic, but she made it her own. Lipa produces an entire album that plays off of 70s, 80s and 90s influence while reworking the songs into fresh present-day pop and it was something we needed to kick off the decade. 
The album begins with the title track "Future Nostalgia" which sets the pace for the record: upbeat, retro, commanding and with many moving parts.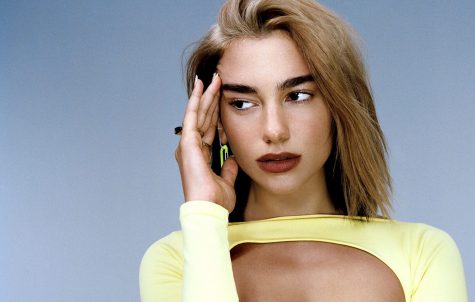 Lipa's album is direct, and it is clear she is confident in her sound and lyrics. The 11 songs go onto to discuss heartbreak, taking a stand, exploring new relationships and toxic male behavior. Throughout the album Lipa's vocals were consistently energized. Her low, raspy and often times resonant vocals glided nicely over the production without hesitation. 
One thing that listeners will definitely catch on to are the moments when the album pays homage to the eras that inspired it. The song "Physical" makes a direct reference to Olivia Newton-John's 1981 record, "Physical." As well as that, in the song "Break My Heart" Lipa samples INXS's opening melody to their 1987 song "Need You Tonight."  She also goes onto incorporate a sample from "My Woman" by Lew Stone & the Monseigneur Band into her song "Love Again." 
Picking up on these samples added to the album's general push to feature some overall classic songs. She truly achieved something of that nature in a few my favorites off the album which were "Levitating," "Future Nostalgia," and "Break My Heart." 
With this album, Dua Lipa has solidified herself as one of the main pop girls. The "New Rules" singer went on to prove that she was more than her singles and put together a concise, thirty-seven-minute, feel-good body of work.  
To create an album that flowed in the way "Future Nostalgia" did is very rare in mainstream artists.  It was very surprising that there was not a song lagging behind, and great that nothing felt played out or antiquated.  
Although the release of the album was sped up one week due to it being leaked online, the overall aesthetic of Lipa's new area has been received with praise by critics as well as fans. Critics and fans alike would agree that Lipa's dedication to advancing her music is evident in her work. 
 "Future Nostalgia" delivers a collection of tracks that take on their own form while being reminiscent of decades that have birthed iconic music – a  formula that would secure the longevity the album proclaims.