Your flight is cancelled
How COVID-19 has affected Airport travel in the Tampa Bay area and what should be done
The Tampa Airport Marriott hotel turned on the lights in many of their rooms which ultimately spelled out "hope." The hotel has had a low occupancy rate; less than 20% in the past four weeks, with most of the guests being Southwest Airlines Crew. Usually at this time of year, the occupancy rate is at 95% to 100%. The hotel has taken precautions to keep their guests safe by putting up plexiglass shields at the front desk. 
"We all have a different story of how COVID-19 has affected our lives," flight attendant Elizabeth Rubio said. "I have overnighted twice in Tampa at the hotel and have flown through here several times in the past two weeks. The (hotel) staff has been absolutely incredible to us." 
The reason why this is happening is due to the cancellations of flights in and out of Tampa. Most of the guests that stay at the Airport Marriott are transient guests. Without flights arriving in Tampa due to cancellations, these guests are not able to make it to the hotel.  
The Federal Government needs to do more to prevent the spread of COVID-19. On Friday, Apr. 10, 62% of American Airlines Flights departing from and arriving to Tampa have been cancelled. Although that is a good start, the government should be working harder to lockdown all domestic flights.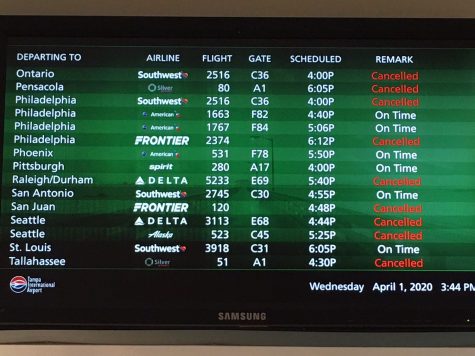 The CDC recommends that everybody should remain six feet away from each other in order to prevent the spread of COVID-19. There is no possible way that 150 people on an airplane can stay six feet away from each other for several hours, not share the same restrooms and armrests, and not touch the same overhead bins. Since none of these actions are possible, all domestic flights should be put on lockdown to prevent the further spread of this virus.  
Meanwhile, the government is trying to open businesses back up by May 1, which is ridiculous because the virus is spreading more and more each day. If the government tries to bring things back to normal by May, everything is going to get worse. Every day, the death toll is higher than what it was the day before. The fact that the government is trying to reopen businesses shows that they do not care about the health and safety of the American people.  
As the pandemic gets worse, the Tampa Airport Marriott staff continues to work hard and keep everyone safe daily. In fact, they could probably deal with this pandemic better than the government. Flight Attendant Elizabeth Rubio has been appreciative for the hospitality. 
"I know that when I come here, I'm going to get a smile, a few minutes of conversation, and some normalcy from the staff," Rubio said. "Everyone from the front desk to the room attendants deserve to hear how wonderful Southwest Airlines thinks they are."