Varsity football honors seniors
Standing side by side with their parents, each of the 35 seniors on the varsity football lined up in the endzone before the start of their season opener on Friday, Sept. 11.  
As each senior's name echoed over the PA system, they walked up to an archway made of gold and black balloons. They stopped in the archway and Principle Johnny Bush handed each player's mother a rose as a photographer snapped a family picture.  
"I've been through senior night as an athlete before and with all the things kids are missing out on, I was very happy that we had senior night early so they could have that," Bush said. "I was very, very pleased that these guys got to celebrate the times they've had at Plant football." 
After a fist bump to their head coach Cyril Brockmeier, each player walked towards the sideline as the rest of the team cheered them on.  
"My favorite part about senior night was just seeing everyone walk down and have the younger guys get excited for us because that is who we are trying to groom to become great," senior wide receiver Parker White said.  
This senior night ceremony is traditionally held before the start of last home game of the season. However, the ceremony was carried out prior to the first game to ensure that the seniors were honored before any cancellations due to coronavirus could occur.  
"It meant everything to be able to have a senior night," White said. "Now, even if the season gets cancelled because of coronavirus, at least we were able to have our senior night." 
Senior linebacker Miguel Torres served as the team's captain for the night and went up for the coin toss. After winning the coin toss the varsity football team deferred and kicked off to Lennard High School to start the game.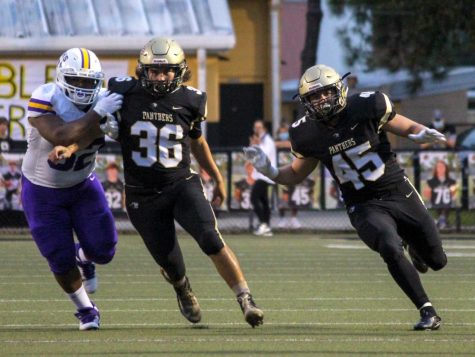 "It was an honor to go out and be the captain, but to me it was more than that," Torres said. "I didn't feel more special than any of my other teammates because they worked just as hard as me." 
Lennard started the game with a touchdown run and then a pick-six giving them an early 15-0 lead. Senior quarterback Dan Fields kept the game under control throwing a touchdown to senior wide receiver Ray Desanto making the game 15-7 at the end of the first quarter.  
"Catching the first touchdown of the season was great," Desanto said. "It was great hearing every everybody cheering for me, that feeling is unexplainable."  
After giving up one more touchdown, the varsity football team went into halftime down 22-7.  
"At halftime what kept the team encouraged was the fact that we knew we were the better team," senior defensive back Cole Bonbrest said. "We would have been winning if a couple small things had gone our way."  
When they came back from halftime Fields threw two more touchdowns, White and another to senior Davis Versaggi. This effort was not enough for the varsity football team however as Lennard scored once more giving them a 29-22 victory.  
"The Lennard game taught us that we need to get on the same page, and it will help us versus Armwood," Fields said.  
The varsity football team will travel to Armwood High School on Thursday, September 17 in hopes of getting their first win of the season. The game is being played on Thursday at 7:30 p.m. as Friday is observed as a no-play day.  
"My expectations for Thursday night are that we are going to have a very hard-fought win," White said.