Panther Modifications
Driving around in a 2012 Volkswagen Jetta, senior Noah Halpern loves catching people off guard with a new look and sound of a Jetta. As his ride or die, Halpern's Jetta can always stand out amongst the rest.  
"I love my car," Halpern said. "It's different, has never failed me and catches people off guard a lot. My favorite thing about my car is the handling, since it's so light and has extra sticky tires. It's really planted to the road."  
Halpern's Jetta reaches a top speed of 120 (electronically limited) and 155 (unlimited) and ranges at around 210 whp (wheel horsepower). Halpern has installed a Magnaflow cat back exhaust, AEM air intake, BBS XS wheels, and carbon ceramic brake pads. Halpern's Jetta also has a straight-five engine, which produces a nice, distinct sound to the car with the help of the intake. Halpern is looking into a lot of modifications to install soon.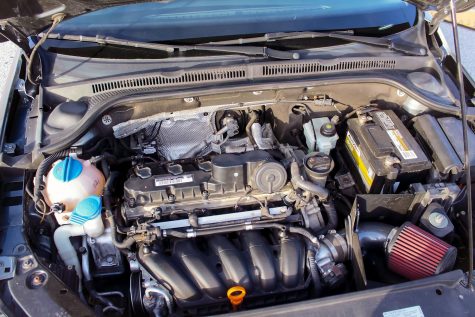 "I'm looking at a custom stage two tune and installation of a cat-less down–pipe along with coil-overs and a possible turbocharger," Halpern said.  
Halpern has been around cars and has worked on them his whole life. His family has always been into cars and his dad used to race for the Porsche Cup. Halpern has recently been hired by sophomore Hannah Woodside's dad, to build a 1985 Porsche 911 from the frame up and work on a Porsche GT3.  
"Noah has really helped my dad with everything," Woodside said. "Not just on the GT3 but also on the 911. The 911 is an '86 model that was a shell when they first started, and Noah helped with pretty much everything. Lifting parts, taking things apart and putting them back, etc. He also scraped off the old film on the GT3, which made it look so much better."  
Cars have been a big part in Halpern's life, and he continues to do more and more with creating a bigger influence across Plant High School and Tampa. Halpern and his friends have recently started a new car club in Tampa called Street Side Tampa.  
"We're trying to promote car culture and family bond with fellow car enthusiasts," Halpern said. "It's something we've wanted for a really long time and we're really excited to get some petrol heads involved."