Staff tries pumpkin spice flavored foods
In honor of the return of pumpkin spice, the newspaper staff decided to put ourselves in a sugar coma by gathering various pumpkin spice flavored foods to taste test. After trying 11 different foods we have ranked each on a scale of one to five pumpkins in order to help you figure out which pumpkin spice treats you should stock up on this fall.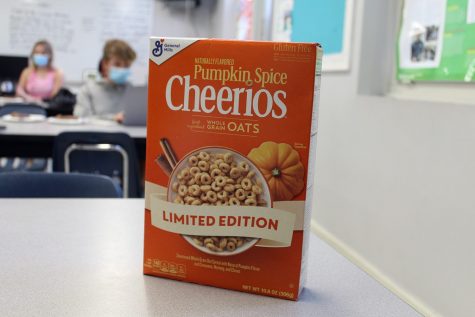 Pumpkin Spice Cheerios
Rating: 3 Pumpkins  
General Mills put their own spin on pumpkin spice by adding it to their classic Cheerios. The pumpkin spice flavor of the cereal was not overpowering and was something that you definitely could snack on. We did not try them with milk, but some staffers agreed they would probably be better in a bowl with milk. "I feel like I would like the milk from this cereal," coverage editor Clio Bruno said.   
Krispy Kreme Pumpkin Spice Donuts  
Rating: 2 Pumpkins  
After seeing countless ads for Krispy Kreme's limited edition assorted pumpkin spice donuts, we had to try them. Once we tried them however, we were thoroughly unimpressed. "Glazed donuts are one of my all-time favorite things in life, but this lets me down" newspaper advisor Christina Porcelli said. "It's too sweet." The four donuts were pumpkin spice original glazed, pumpkin spice original glazed filled cheesecake, pumpkin spice cake, and pumpkin spice cinnamon roll. All four donuts were not as pumpkin spice flavored as they should have been. These donuts are not something to rush out and buy.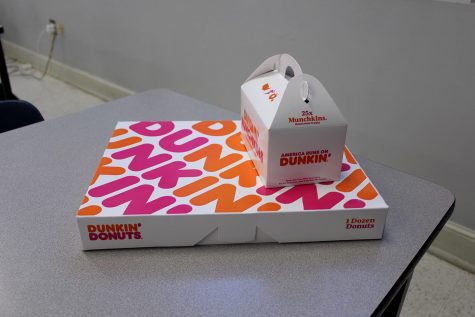 Dunkin Pumpkin Spice Donuts  
Rating: 4 Pumpkins  
After being let down by Krispy Cream's version of a pumpkin donut, we were weary of the Dunkin pumpkin donut. However, we were surprised by how much better it was than the highly publicized Krispy Kreme donuts. Compared to the Krispy Kreme donut, the Dunkin donut had a much more pumpkin spice flavor and the texture was more pleasing. "It has amazing flavor and the glaze is not too sweet," opinions editor Julia Wolfe said.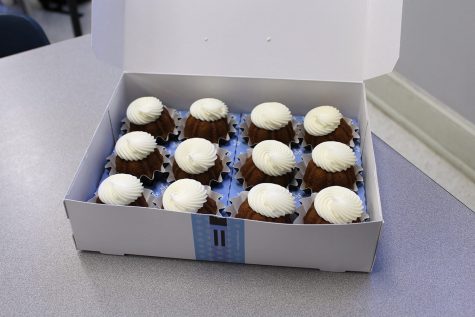 Nothing Bundt Cakes' Pumpkin Spice Bundt Cake  
Rating: 5 Pumpkins  
Go. Buy. These. Nothing Bundt Cakes has outdone themselves with these pumpkin spice bundt cakes. "If this isn't at the top of our list, we've done something wrong" Porcelli said. The cake was moist and had just the right amount of pumpkin spice flavor. The thick cream cheese frosting perfectly balanced out the sweetness of the cake. "This is the best thing we've had," photo editor Kate Bernstein said. "The icing is my favorite."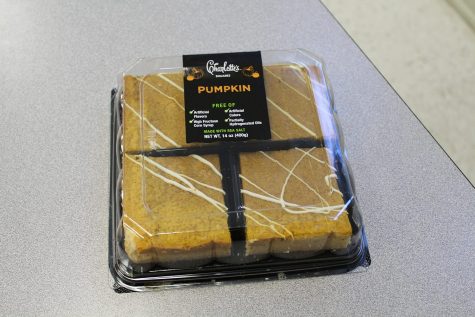 Sprouts Pumpkin Bar  
Rating: 2.5 Pumpkins  
Most staffers were in agreeance that the pumpkin bar was not their favorite. While the pumpkin spice flavor was good, the crust of the bar lacked structure making the bar too mushy. "Great taste but iffy texture," said staffer Rowan O'Flanagan. We believed that if the crust was firmer, the bar would have been a hit. However, the pumpkin bar did have one very passionate fan. "The pumpkin bar was the best thing we ate all day," print editor in chief Ava Nelson said.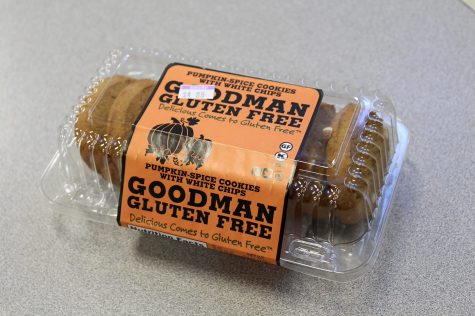 Fresh Market Pumpkin Spice Cookie  
Rating: 1 Pumpkin  
This was by far the least enjoyable thing we tried, with many staffers rating it 0 pumpkins. "It's soft but it doesn't really taste like anything," features editor Izzy Antilla said. The staff was unable to detect any pumpkin spice flavor and the texture was very grainy. "It has the weirdest texture," Porcelli said. "I can still feel that texture in my mouth and I am not enjoying it." Staffers also noted that the cookie had a weird after taste and was not something they wanted to take a second bite of.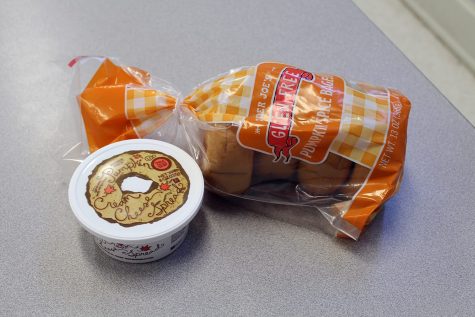 Trader Joe's Pumpkin Spice Bagel with Pumpkin Cream Cheese  
Bagel Rating: 2 Pumpkins  
Cream Cheese Rating: 4 Pumpkins  
When trying the bagel alone, we had to check the packaging again to make sure it was a pumpkin spice bagel and not just a pumpkin bagel because the flavor was underwhelming. But what the bagel lacked in flavor was made for when we added the pumpkin spice cream cheese. "The cream cheese is where it's at," Wolfe said. The cream cheese created just the right amount of sweet and spice when added to the otherwise plain tasting bagel. "It needs the cream cheese to enforce the pumpkin flavor, but it's still a good bagel" Porcelli said.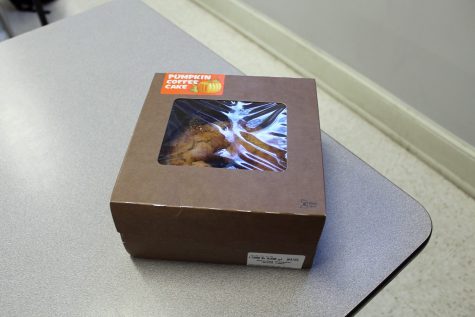 Sprouts Pumpkin Coffee Cake  
Rating: 4 Pumpkins  
Another staff favorite was the coffee cake. "I am obsessed with the soft texture and the flavor would definitely compliment my coffee," Wolfe said. While everyone enjoyed the texture of the cake, the only criticism would be that it could use a little more pumpkin spice flavor. "Don't criticize it," social media manager Lauren Azevedo said. "The coffee cake is delicious and should be eaten at every meal of the day."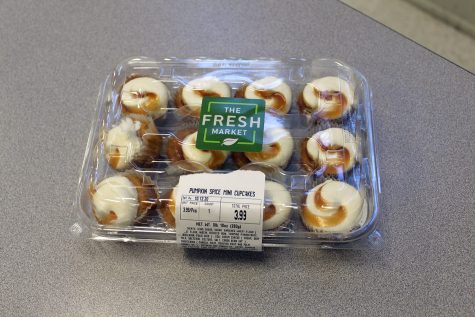 Fresh Market Pumpkin Spice Cupcakes  
Rating: 1.5 Pumpkins  
These mini pumpkin cupcakes looked promising with their cream cheese frosting swirls and drizzle of caramel, but the frosting was too sweet and overwhelming. "All you can taste is how sweet the frosting is," sports manager Tyler Grubbs said. "If the cake has any flavor, you can't tell." The size of the cake was too small for the amount of frosting on top, so these were one of the least enjoyable treats we tried.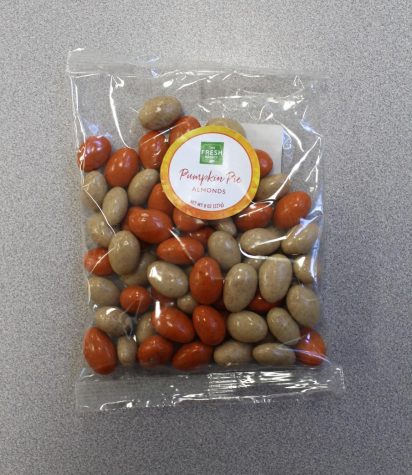 Fresh Market Pumpkin Pie Almonds  
Rating: 3.5 Pumpkins  
The pumpkin pie almonds by far had the most mixed reviews ranging all the way from 0 pumpkins to 5 pumpkins. News editor Salena Kahassai said they made her want to vomit while designer Avery Owens rated the almonds 5 pumpkins. "It's a no from me," Azevedo said. The coating around the almonds was too heavily spiced leaving no room for the flavor of the almond to come through.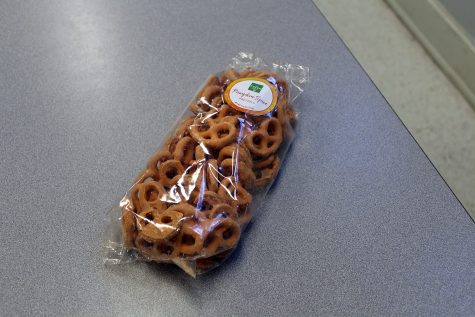 Fresh Market Pumpkin Spice Pretzels  
Rating: 3 Pumpkins  
These are Fresh Market's traditional yogurt covered pretzels flavored with a subtle pumpkin spice flavor. I actually have these pretzels at home and have eaten a whole bag by myself, but the rest of the staff was not as impressed. The mixed reviews show as managing editor Sam Macuare said that they were too spiced while Grubbs said they just tasted like vanilla.  
Winner: Nothing Bundt Cake's Pumpkin Bundt Cake  
Loser: Fresh Market Pumpkin Cookie