Students speak at signing day ceremony
Lined up along the track Tuesday, Nov. 17, fifteen seniors waited to announce where they would be attending college to continue their athletic careers. 
Normally held in the media center, the signing day ceremony was held on the field in order to abide by social distancing guidelines. Friends and family gathered in the stands to watch the athletes accomplish this milestone.  
First up were two members of the girls' basketball team. The team's starting power forward Kendal Cheeseman will be attending Vanderbilt University next fall while starting point guard Nyla Jean will be taking her talents to Atlanta in the fall as she plans to attend Georgia State University.  
"These two ladies have rewritten the record book statistically, emotionally and spiritually for our program," girls' basketball head coach Carrie Mann said. "We have played 100 games in three years with these two ladies leading our program. These two have been the quickest girls' basketball players to reach 1000 points and they did it within 5 games of each other."  
Next to announce was five-time state champion swimmer, Ella Bathurst, who will be attending the University of Virgina as she moves on from high school.  
"I'm super thankful to have such a great support system from my family, friends and coaches," Bathurst said. "I definitely wouldn't be signing to my dream school today if it wasn't for them." 
With the most of any sport, four members if the girls' soccer team announced where they will be playing at the collegiate level. Claire Rain will be attending the University of Tennesse in Knoxville, while Elyse Iller will be attending Kent State in Kent, Ohio. Lexi Evangelista will be moving to New York to attend Fordham University, and Lauren Webster will be moving to North Carolina to attend Meredith College.  
"I more than excited, more than proud of these girls," girls' soccer coach Alex Venegas said. "They've been with me since I've been here at Plant. We have done very big things, from divisional champions, regional champions, all the way to state semi-finals because of them."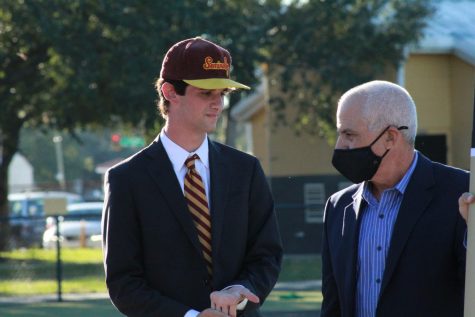 Wynne Thomas, a four-year member of the boys' cross-country team, was next to announce that he would be spending the next four years running at Florida State University.  
"Coach Boza shaped me into the runner and person I am today," Thomas said. "If it weren't for him, I would not be here today running. I would like to thank a good friend of mine, Will Connery, for getting me into the sport in the first place, if it weren't for him, I wouldn't be standing here either."  
Introduced by head baseball coach Dennis Braun, three members of the baseball team also signed their letters of intent. Announcing first was Sebastian Martinez who will be continuing his baseball career at Young Harris University. Staying in Florida, Reece Soper will be moving on to play at Florida International University while Jac Caglianone will play at the University of Florida.  
"I just want to give all three of them a lot of credit," Braun said. "What they've had to deal with this year is obviously a lot more than the other players who have come through here." 
Caroline Patterson, a member of the girls' lacrosse team will be continuing her academic and athletic career in Philadelphia where she will attend St. Joseph's University. 
"First off, I would like to thank my parents and family for always supporting me so that I can play to the best of my ability," Patterson said. "And my friends and teammates for always being there to support me." 
Two members of the boys' lacrosse team, who will both be transitioning to Division I schools, were next to announce. Defenseman Zack Antoniou will be spending the next four years at Fairfield University while goalie Wyatt Knust attend Cornell University.  
"I'm happy I got to sign with my best friend Wyatt," Antoniou said. "We've been talking about this since fourth grade so I'm just happy to be here." 
Last to announce was William Hubbard, president of the rowing club. Hubbard will be moving on to row at Stetson University.  
"I'd like to thank all the coaches at Plant High, we run a great program at Palm River," Hubbard said. "It's been a lot of fun and thank you to all my teammates at PHRA for being supportive, erging fast, and always being cool."