Staff tries different flavored popcorns
In honor of National Popcorn Day on Tuesday, Jan. 19, the newspaper staff bought ten different flavored popcorns to try. Each flavor was rated out of 5 kernels in order to help you determine which bag to buy for your next movie night.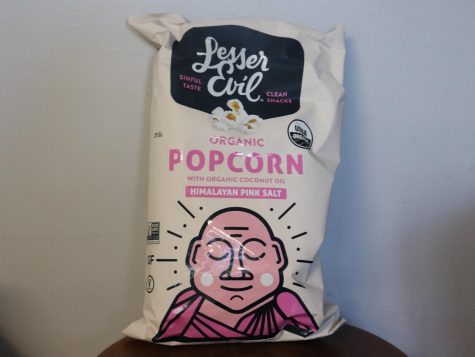 Himalayan Pink Salt Popcorn
Rating: 4 kernels 
First up we had a traditional, salted popcorn. "It has an amazing savory flavor," photo editor Kate Bernstein said. "I would eat any time of day." Most staffers were on the same page and like the simplicity of the popcorn, but others were quick to point out an odd aftertaste. "I'm indifferent to this popcorn," news editor Salena Kahassai said, "But it tasted kinda weird."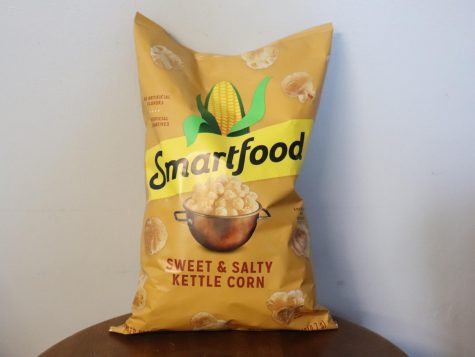 Sweet and Salty Kettle Corn
This sweet and salty kettle corn was my personal favorite. It had just the right amount of salt to balance out the sweet coating and would be a perfect snack. "It's not too sweet, it's just right," Bernstein said. "I don't like kettle corn usually, but this is an exception." Most staffers were a fan of the crunch that the sweet coating offered. "I'm not a big fan of kettle corn, but this is really good and I love how it is super crunchy," features editor Izzy Antilla said.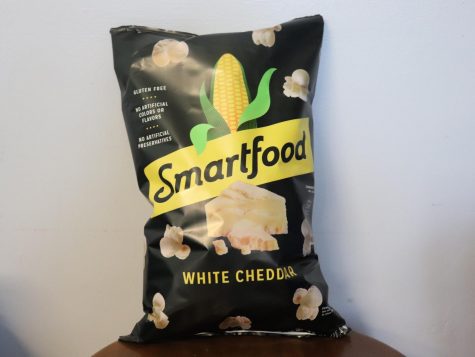 White Cheddar Popcorn
Rating: 5 kernels 
Another classic that we tried would be the white cheddar popcorn, which had just enough of the cheddar flavor. "The best popcorn ever invented for sure," staffer Connor Dannewitz said. The only flaw we could find in this popcorn was the cheddar powder itself. "This is one of my favorite snacks to eat, but I hate the dusty fingers from the cheese powder," said social media manager Lauren Azevedo.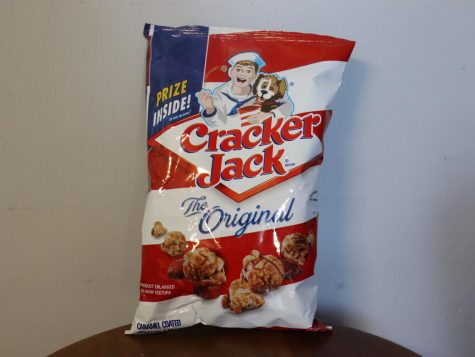 The Original Cracker Jack
Rating: 1 kernel
The Cracker Jack is an American staple that is commonly associated with the game of baseball, but it did not seem to bring the same level of satisfaction when being tasted outside of a ballpark. "The flavor is not good," opinions editor Julia Wolfe said. "The syrup used to give the popcorn its sweetness is almost bitter." The staff agreed that of the kettle corns we tried, Smartfood's Sweet and Salty Kettle Corn was superior.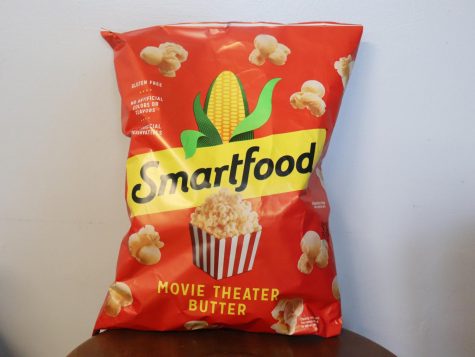 Movie Theater Butter Popcorn
Rating: 4.5 kernels
If you really miss going to the movies, but don't want to put yourself at risk during the pandemic, then this is the popcorn for you. The flavor perfectly mimics the taste of actual movie theater popcorn dowsed in butter. "I really enjoyed this popcorn," staffer Hyatt Criser said. "It made me nostalgic of the good times before COVID-19." Another plus to this popcorn is that it delivers a freshly buttered taste without being greasy.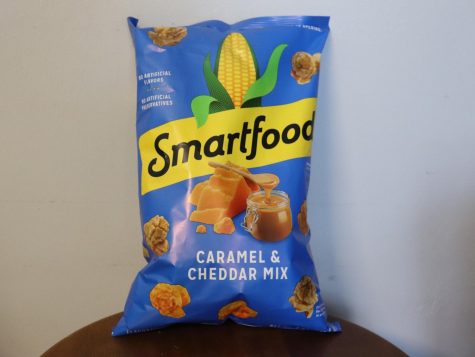 Caramel and Cheddar Mix Popcorn
Rating: 2 kernels
From the start the staff was weary of this sweet and savory combo. This issue in my opinion was it was way too much of the sweet and not enough of the savory. The caramel flavor was bold and overpowered the cheddar that was meant to balance it out. "It definitely needs more cheddar to balance out the caramel," Porcelli said. "It's way too sweet."  Some did enjoy each of the flavors, but just not together. "Both flavors are good on their own on my opinion, but together it is kinda weird," Antilla said.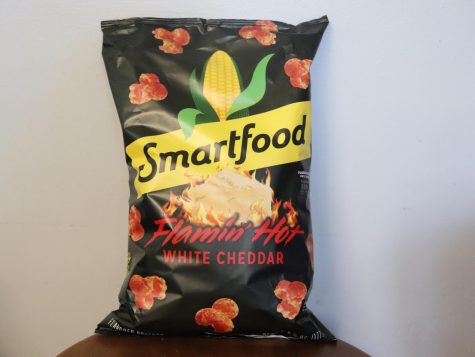 Flamin' Hot White Cheddar Popcorn
Rating: 0 kernels
Flamin' hot snacks are trending right now, but after trying Smartfood's version, we understand why there's has not been hyped up. "I love Flamin' Hots, but I hate Flamin' Hot Popcorn," Porcelli said. " It tastes fake and leaves a really weird aftertaste." It was also considerably spicy and had weird texture. However, this popcorn did have one very passionate supporter who wanted her love of this popcorn to be known. "I didn't know these existed but I'd definitely buy these to eat at home," Azevedo said.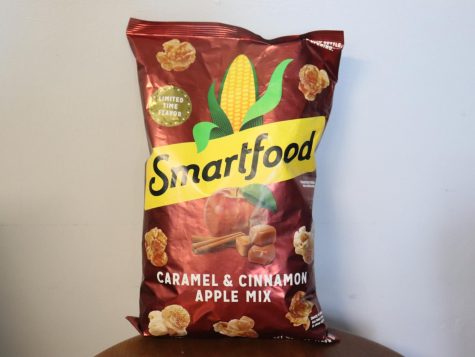 Caramel and Cinnamon Apple Mix
Rating: 3 kernels
This popcorn received many mixed reviews. "The cinnamon ones are really good, but the caramel is too sweet and not crunchy enough," designer Avery Owens said. Some were impressed by the way the flavors worked together. "It is surprisingly good," staffer Rowan O'Flanagan said. " It has a great apple cinnamon caramel flavor." However, others criticized the inclusion of cinnamon. "The caramel flavor is pretty good, but the cinnamon apple is disgusting," Wolfe said.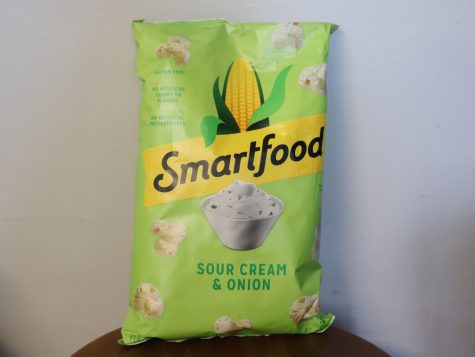 Sour Cream and Onion Popcorn 
Rating: 3 kernels 
Some were skeptical of this very savory popcorn, but it did begin to grow on some staffers after a few tastes. While not as good as sour cream and onion chips, it is not a terrible option. "I wouldn't go for these in a store, but if they were in front of me I guess I would eat them," Bernstein said. One downside is how strong of an aftertaste the onion leaves. "This one is okay but the flavor has a bad aftertaste," Wolfe said.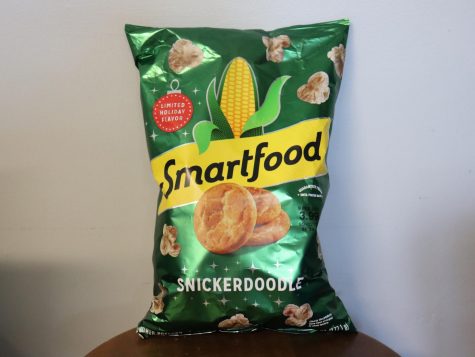 Snickerdoodle Popcorn 
Rating: 2.5 kernels
Out of all the popcorns we tried, I was most excited to try this one, but I was not impressed. It was way too sweet, definitely not something you could just snack on. "This is better than the cinnamon apple one, but it is still throwing me off," Azevedo said. "I feel like my tastebuds are yelling at me and could get a cavity from these."
Best popcorn to snack on during movie night: White Cheddar Popcorn
Worst popcorn to snack on during movie night: Flamin' Hot White Cheddar Popcorn