Student starts clothing business
How a student made his dream into a reality
In an attempt to make the most out of quarantine last year, senior Davis O'Malley started his own clothing company, Big Stick Clothing. O'Malley said he wants to pursue business as a career and decided to start his dreams off early. 
"I decided to start it over the first quarantine last year," O' Malley said. "I decided to start it because I've always wanted to start my own business and I plan to do that as a career. During quarantine, I wasn't doing anything else, so I decided to be productive and start it." 
O'Malley furthered his dreams into a reality by exploring ways to build his brand. He was later able to establish Big Stick Clothing by himself. 
"I first started with designs, and I contacted companies to see about producing my shirts to see prices and things like that…" O'Malley said. "I figured out how to make a website and market by myself as I went along." 
Although O' Malley started the business himself, he has received help from his family and friends, and says they've been nothing but supportive. He says he is thankful to them for all the support, as it has helped a lot. 
"I started the brand myself, but I had help from my grandma, who is a graphic designer, to help me with my designs," O'Malley said. "My friends have helped with modeling my clothes and my family has helped with financial things."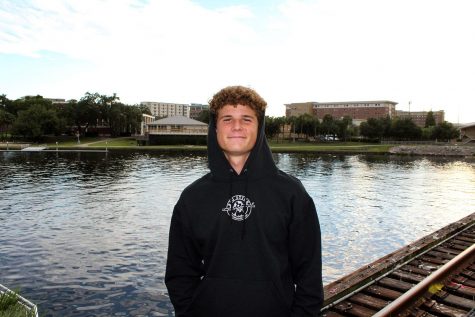 The design of the brand? A dog. O'Malley says his inspiration was a St. Bernard-Labrador mix he used to dog-sit in order to pay for the shirts in the beginning. O'Malley also shared that the background of the name "Big Stick" also comes from the dog, Macallan. 
"I needed to gain some initial money to buy my first stock of shirts," O' Malley said. "So, I dog-sat every day to make that money. The dog for my design is that dog. On our walks, he would pick up these huge sticks and I thought it would be a fun 'life is good' looking design to have him with the stick in his mouth." 
One dollar from every shirt that Big Stick sells is donated to a non-profit animal shelter, SPCA Tampa Bay. O'Malley also shared on his website that Macallan was a rescue dog, which inspired him to donate to SPCA.  
"I have a connection to the board there, so it was easy to get a tour," O'Malley said. "They work on more broad things regarding animal rescue rather than the humane society." 
Regarding the future of the business, O'Malley has hopes to expand his clothing line. As of right now, he sells t-shirts and hoodies and plans to also get into long sleeve shirts. 
"I do have plans to maybe make different breeds for shirts but that wouldn't be for a while," O'Malley said. "I've planned for different holiday shirts as well, so we'll see when the time comes." 
When asked if he plans on continuing Big Stick after high school, O'Malley said he was unsure.  
"I really like Big Stick, but I don't know if clothing is my passion yet," O'Malley said. "I'll just have to see how it goes."