Shared Gold Medal in Olympic High Jump
On August 1, the World Olympics made history in Tokyo, Japan, when the Men Athletics High jump had two gold medals.
The clash between Mutaz Essa Barshim of Qatar and Gianmarco Tamberi of Italy seemed bound to end in tragedy for one athlete and sublime victory for the other; however, both jumpers simply could not outdo one another.
"For me, coming here, I know for a fact that for the performance I did, I deserve that gold," Barshim said. "He did the same thing, so I know he deserved that gold."
After surpassing the rest of the field by accomplishing a 2.37-meter jump on their first try, Barshim and Tamberi were stumped when the bar was raised to 2.39-meters, the Olympic Record. Barshim and Tamberi had three attempts each to accomplish the Olympic record, but all attempts were unsuccessful, and both jumpers were ranked evenly.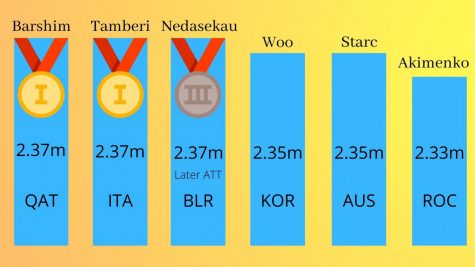 "We work together," Barshim said. "This is a dream come true. It is the true spirit, the sportsman spirit, and we are here delivering this message. I still can't believe it happened… sharing with a friend is even more beautiful … It was just magical."
Both participants seemed overjoyed with hearing the news that they would both become Olympic gold medalists. Tamberi dealt with an injury at the Rio Olympics in 2016; he was told that there was a risk that he wouldn't be able to compete anymore. After winning his gold medal, he showed his delight by jumping around with tears of joy.
"After my injuries, I just wanted to come back, but now I have this gold; it's incredible," Tamberi said. "I dreamed of this so many times."