Anger, Excitement, Drama — A Recap of the Great Britain Grand Prix
The historic weekend of July 16-18 put many fans at the edge of their seats. Tensions and rivalries grew as crashes and celebrations occurred during and after the big race in the home of three English drivers: Lewis Hamilton of Mercedes, Lando Norris of McLaren, and George Russel of Williams. Around ninety-thousand fans sat at the grandstands in Silverstone to witness all the drama, intensity, and celebration that took place.   
On July 17, Formula 1 experienced their first-ever F1 Qualifying Sprint — a race of roughly 30 minutes (17 laps of Silverstone) to provide wheel-to-wheel thrills and a mixed grid for the upcoming race. Before all five lights went out, flames were spotted peeking out from the left front tire of the Red Bull of Max Verstappen. Despite it, fans were sent a thrilling opening lap, Verstappen leading most of the Sprint and Hamilton closely following behind with many passing attempts. Few contacts and collisions happened during the 30-minute Sprint, one involving the Red Bull of Sergio Perez as he got on the throttle too early out of Chapel, spinning the Red Bull on Lap 5, causing Perez to retire from the Sprint.   
After the first-ever F1 Sprint, Verstappen claimed his fifth pole of the year and gained three points. Hamilton gained two points, and Valtteri Bottas of Mercedes gained one. Fernando Alonso of Alpine and Kimi Raikkonen of Alfa Romeo jumped from Alonso from P11 to P7 and Raikkonen from P17 to P13.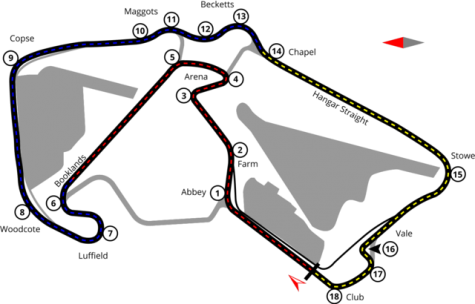 "Around here, it's difficult to pass, but we had a good start and a good fight with Lewis in the first lap, then we tried to do our own pace," Verstappen said. "But you could see we were pushing each other hard because, at the end of the race, the tires were blistering a lot, so we had to manage that to the end. Nevertheless, happy to have scored three points. It sounds a bit funny to hear you cut a pole position, but anyway, we'll take it. I think it will be a really exciting, exciting battle tomorrow."   
July 18 — Race Day. The lights turn off, and the immediate competition for P1 starts with Verstappen and Hamilton. By the first half lap, Hamilton and Verstappen make contact at Copse. Hamilton tried passing inside into the fast-sweeping corner, only to send Verstappen spinning hard into the barriers. Hamilton received a 10-second penalty for the collision, and Verstappen was transferred to a hospital for further checks while the race was red-flagged, pausing the most controversial race in F1 history.   
The Great Britain Grand Prix was won 99 for Hamilton — a win at home. While some were happy for Hamilton, many were not due to the Hamilton-Verstappen collision on Lap 1. After the race, Verstappen made a post on Instagram featuring the picture of his crash and stating the disrespect and unsportsmanlike behavior that took place that day.
"Watching the celebrations after the race while still in hospital is disrespectful and unsportsmanlike behavior, but we move on," Verstappen said.
There were multiple different standpoints on the crash; Red Bull accused Hamilton of a 'desperate' move, and Mercedes Team Principal Toto Wolff stated to F1 News that Red Bull's Hamilton comments were 'below the belt.' Hamilton admits to F1 News that he called Verstappen to check that he was OK after the controversial crash at Silverstone.
"As I said in the last race, I was not aware. I was not made aware; I saw on the screen that he had gotten out of the car and looked OK, and then I was told he was fine," Hamilton said. So, I was not aware until the media conference afterward that he visited the hospital."
The next day, Hamilton received many racially abusive comments that were later addressed by drivers such as Lando Norris and Daniel Ricciardo of McLaren.
"I've seen some of the remarks aimed at Lewis after yesterday. No matter what happens on the track, there is absolutely zero place for racism and hate, Ricciardo said. "Please, we have to be better than this."