Nirvana sued by baby on their "Nervermind" album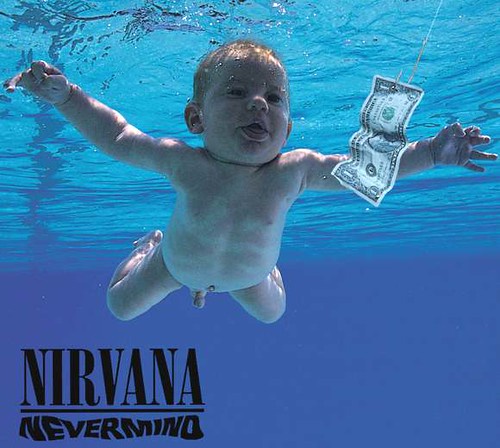 Spencer Elden was photographed for one the top selling albums in the world: Nirvana's "Nevermind." Thirty years later, Elden claims that the image is child pornography. 
The picture that helped create Generation X and changed rock was taken at the Rose Bowl Aquatics Center in Pasadena, Calif. Over the decades that followed the album release, Mr. Elden celebrated his contribution to Nirvana's fame by recreating the album's 10th, 17th, 20th and 25th anniversaries in a similar manner to the original. 
"In 2007 he told the Sunday Times, he found it 'kind of creepy that many people have seen me naked … I feel like the world's biggest porn star," CNN said. The following year he told CNN that "he was often asked to attend events as the 'Nirvana baby.'" 
The lawsuit Mr. Elden filed consists of a federal lawsuit against the estate of Kurt Cobain as well as David Grohl and Krist Novoselic, the former band members. This also even included Mr. Cobain's widow, Courtney Love. In the file, he claims that the band, including Geffen Records, profited from Mr. Eden's nude image. 
"Neither Spencer nor his legal guardians ever signed a release authorizing the use of any images of Spencer or of his likeness," the lawsuit said. 
There was also some confusion as to what the photo shoot in 1991 was for. Kirk Weddle was a family friend of Elden's parents, so his parents therefore did not give it much thought of why Mr. Weddle was inquiring them about participating in a project. He offered his parents $200 to participate. 
"They were trying to create controversy because controversy sells," Maggie Mabie, one of his lawyers, said. "The point was not just to create a menacing image but to cross the line and they did so in a way that exposed Spencer so that they could profit off of it." 
Even though Mr. Elden is conveyed emotions of content, he is claiming otherwise. In addition, according to Ms. Mabie, he felt a large amount of unease over this image as a teenager. 
"Mr. Elden is asking for Nirvana to do what Nirvana should have done 30 years ago and redact the images of his genitalia from the album cover," Mr. Mabie said.
Do you listen to Nirvana?
Sorry, there was an error loading this poll.